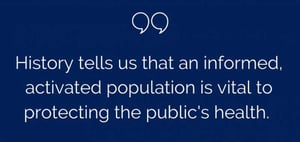 As the number of COVID-19 cases climbs in the United States, there is little known about the severity of the situation yet to come. Businesses and public institutions are facing difficult decisions about whether to keep their facilities open or to move to fully remote until there is more clarity.
We have already seen decisions from schools like Lowell High School to shut down due to COVID-19 exposure. Amherst and Princeton made the decision yesterday to move their learning experience to a virtual environment. Over the next few weeks, many educational institutions may need to make similar decisions.
The unpredictability of COVID-19 will force institutions to act swiftly, and those affected will have to be notified immediately. Response time is critical to successful execution, and traditional communication channels like email and the antiquated phone tree are not sufficient. For the many reasons we believe text messaging is the best tool for business communication, we also believe it is the most effective channel for educational institutions and senior facilities to communicate with their community.
Our mission at Avochato is to promote dialogue, and we have seen how our product can help these institutions communicate quickly and effectively. For this reason, we have decided to offer Avochato free of charge for the next two months to any senior center, nursing home, and public or 501(c)(3) school who would like to use our product to communicate via text message with their network. By fostering communication, we hope to help our community stay informed during this time of uncertainty.
If you are interested in learning more about how Avochato can help your organization correspond with your community via text message, please text 'SMS' to 415-214-8977.
Eligibility requirements based on business/organization classification and eligibility subject to approval at the sole discretion of Avochato. offer valid for Avochato "Core" plan.