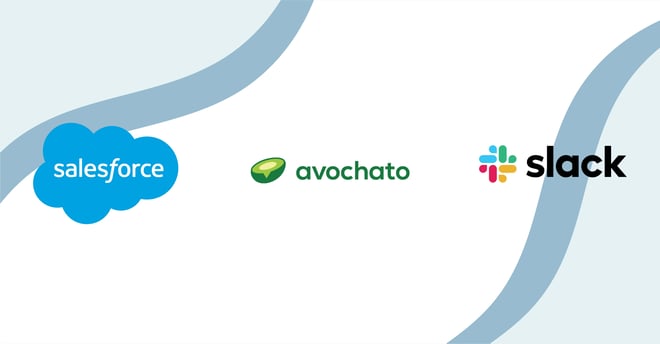 As a company that offers both Slack and Salesforce integrations, the news of the Slack acquisition was obviously an exciting one. Much of the commentary floating around the tech blogosphere has focused on the ways that the Salesforce sales force will be able to leverage their pre-existing distribution channels in order to help expedite Slack's growth and adoption among enterprise companies.
From our side, we have been primarily focused on the potential product implications of the acquisition. The Salesforce acquisition speaks of "integration" at a high level. From their press release:
"Salesforce is the #1 CRM that enables companies to sell, service, market and conduct commerce, from anywhere. Slack brings people, data and tools together so teams can collaborate and get work done, from anywhere. Slack Connect extends the benefits of Slack to enable communication and collaboration between a company's employees and all its external partners, from vendors to customers."
Across the Twitter community, jokes along the theme of "what does Salesforce do, exactly?" have spoken to the challenge of articulating the ways that a company of their size could even begin to incorporate a product like Slack, which gained adoption due to the simplicity of its product and its ease of use.
does one single person know what salesforce is or does

— Internet Person™⭐️ (@TimHerrera) December 1, 2020
Ben Thompson's post in Stratechery commented on the complexity of the Salesforce ecosystem and underlying data for many Salesforce users, commenting that "the sort of software Salesforce specializes in, first and foremost CRM systems, is generally a UI disaster not because there is, to use Slack nomenclature, insufficient 'love', but because there is so much complexity and so much disparate data. The idea of a beautiful interface like Slack being the front-end for all of the data Salesforce holds is compelling, but it's easy to see the reality being much less remarkable."
While it is certainly hard to speak to data cleanliness for CRMs, we thought it would be helpful to share some concrete examples of how our integration between the two has served our sales team well. Specifically, we think the obvious opportunity to integrate is through notifications.
Some important background here is that Salesforce's tools for in-app notification management are complicated. There are many different data structures (Notifications, Activities, Tasks) some of which have mind-boggling square-rectangle relationships. The streams show too much information ("Someone opened an email! You have a new Lead! There's a meeting!") or require custom views that have to be sought out and configured by an advanced administrator. Slack, by contrast, is quite truly built for this: that firehose stream has only messages, and messages are sent to relevant channels. Each channel can have its own preferences and its own configurations. Desktop and mobile notifications are their bread and butter, and can be easily tweaked by each individual team member instead of some over-burdened Salesforce admin. Too noisy? Mute it. Need an alert for specific keywords? Add it yourself.
How Avochato teams leverage Salesforce and Slack
Our company, Avochato, sells a SaaS business product. Our internal team uses both Salesforce and Slack: we live and breathe these integrations every day. When new Leads are created in Salesforce, that information gets posted into a Slack channel called #leads automatically, tagging the assigned member of our sales team. From there, the rest of the team can process that information however they see fit. Our sales leaders can monitor any particularly exciting prospects. If it's an especially hot lead, a 🔥 emoji can add a little drama. Our marketing team can peek in the channel and get a quick glance to see if we're getting high volume or assess the quality. The individual sales team members can jump immediately into action based on the new ones that are assigned to them. Each Slack message contains a link to the Salesforce Lead record, so the rest of the team can easily find and refer back to the underlying CRM data. Slack offers an integration through the App Exchange, but much of the work our team has done to implement this integration has been custom. The concept of making a configuration such as ours available via out-of-the-box integration is a compelling one to Salesforce users who lack an engineering team to design it themselves.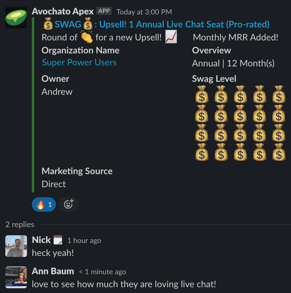 The #leads channel is just one of our Salesforce-Slack integrations. We also have a #swag channel where new deals get posted, or renewals get processed. There are other tactical examples that we could share, but they all speak to the same point: namely, that a collaborative UI for Salesforce data brings tremendous value to our team. As Bret Taylor, Salesforce's Chief Operating Officer, said in their Q3 Earnings:
"And I think we really view Slack as really the system of engagement for every employee, for every partner, and for every customer interaction."
In addition to the benefit for Salesforce customers, the Slack integration also lowers the barrier for Salesforce app developers looking to build on top of the Salesforce AppExchange. Technically speaking, Salesforce app developers face a number of challenges if they want to leverage native Salesforce notifications. Salesforce's pricing scales based on the number of API calls, so developers need to be mindful of those limitations on behalf of their potential customers who will foot the API bill. In-app websocket communications between installed apps and Salesforce's UI can be extremely complex. By contrast, Slack's API is lightweight and easy to configure, letting the developer pass only the data while Slack and the end-user get to worry about the UI.
What we expect to see next
As messaging (over SMS, WhatsApp, iMessage, RCS, or other channels) gains adoption as a crucial part of the sales process, we believe that real-time notifications will be an integral piece of the software for Salesforce ecosystem customers. Messages demand real-time responses, and a clean system to manage those notifications is hard to build. Whether those notifications are spawned by Salesforce's own internal products or by third-party tools such as Avochato, we hear Salesforce customers clamoring for ways to cut down their "tab hopping" and filter the information into more centralized tools.
Our team sees a lot of potential in deepening the ability to push Salesforce notifications into Slack, without any need to modify the Slack platform directly. As the two companies develop more integrations, next up on our wishlist would be "Login with Slack" to streamline Salesforce's identity management across the various Clouds (and perhaps across companies, in keeping with Slack's highly useful cross-team shared channel functionality). Regardless, we look forward to hearing more product roadmap developments in the future.