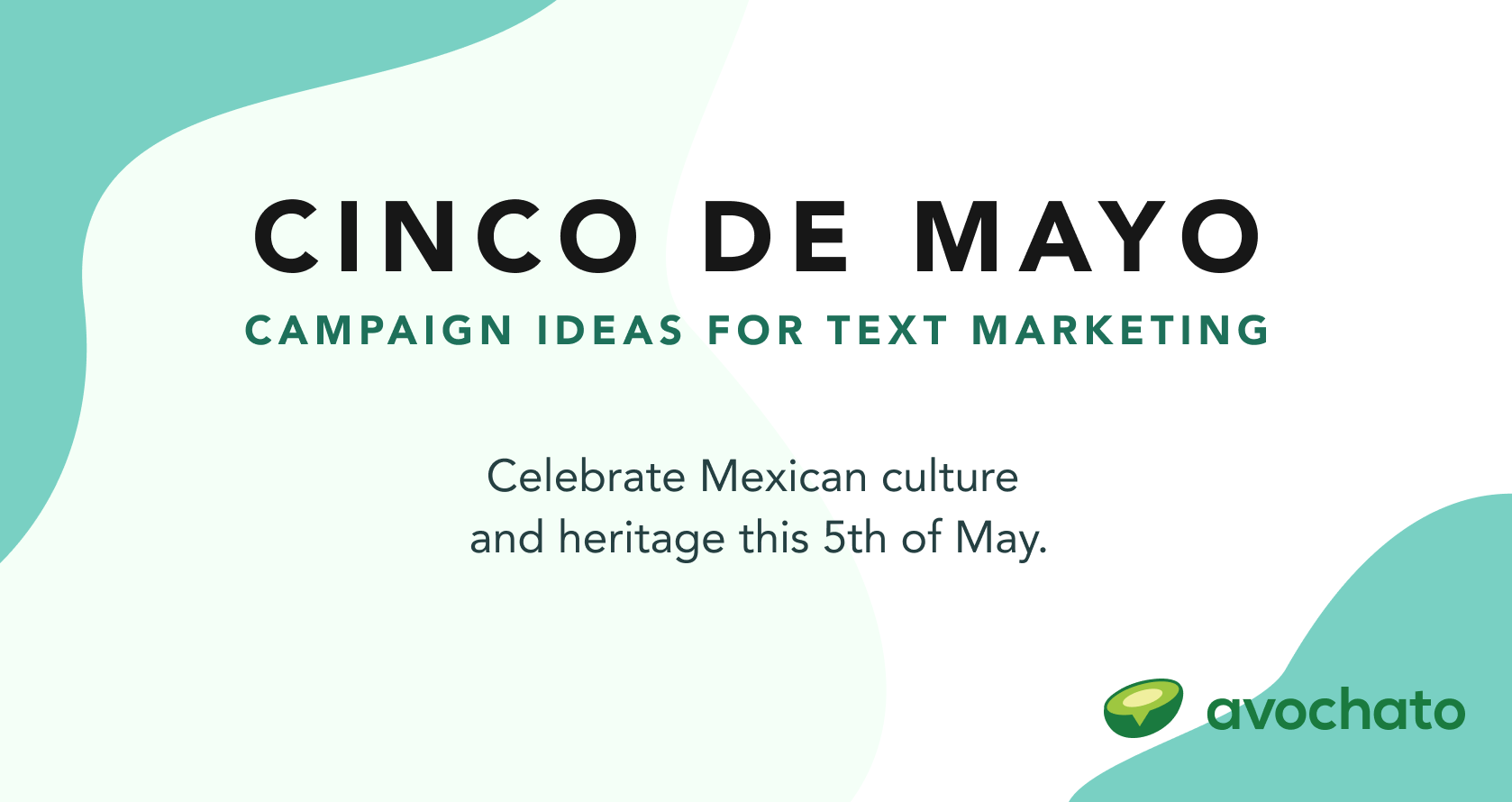 Cinco de Mayo is a holiday that commemorates Mexico's win over France during the Battle of Puebla on May 5, 1862. Even though it's a relatively minor holiday in Mexico itself, it's come to represent a celebration of Mexican heritage and culture in the United States.
Businesses that recognize and value the importance of celebrating Mexican culture and heritage can find themselves looking for ways to share the celebration with their customers on the 5th of May.
Holiday campaigns can be a great excuse to remind your audience about your brand. Cinco de Mayo tends to be a great time for restaurants, bars, food and beverage companies and Mexican-owned or inspired businesses to message their customers with text marketing campaigns.
But even if you're not a food-related brand, it's still a great time to reach out. Your marketing campaign can be designed to fit the holiday, as long as your message is genuine, honors the full meaning of the holiday, and gives something of value to the customer.
One of the best ways to reach customers during holidays like Cinco de Mayo is through text message. Companies that use text marketing benefit from a 98 percent read rate on their texts. That means that almost every single one of your customers will read your text this Cinco de Mayo if you run a campaign this year. That's what makes texting your customers such a powerful marketing campaign tool. The more eyes on your marketing messages, the more potential business for you.
Here are some great Cinco de Mayo campaign ideas for text marketing:
Try a freebie promotion
You could run a promotion to gain opt-ins or get people in the door, offer customers something in return for their phone number. A restaurant could try something like,
"Celebrate mexican culture while you snack! Text GUAC to 10203 to get free chips and salsa with your order."
(Here at Avochato, we love anything guacamole related!) Or, a food and beverage brand could try something along the lines of:
"How about a drink while you celebrate the richness of Mexican culture this Cinco de Mayo? Text MARG to 48884 for 25% off our premium tequila."
In the above examples, the phone numbers are simple short codes that are easy to remember so customers don't have to think too hard when putting them into their phones. With the right text marketing software, you can create a unique shortcode for your customers to text and automated actions based on particular keywords. (Learn more about the upsides to using shortcodes for text marketing.)
Hold a contest
For those who opt into your text marketing list, you could create a drawing to choose a random lucky winner. Cinco de Mayo-themed prizes could range from a free drink to a specially curated box full of handcrafted items from Mexico.
Celebrate the customers who choose to join your text marketing list with a chance to win big. Make sure the prize is exciting (your audience needs a reason to opt in!), on-brand, and, of course, fits with a Cinco de Mayo theme.
Try something new this year
Sometimes you don't have a promotion to run or a Cinco de Mayo-themed contest available. In situations like that, it's still a great idea to reach out to customers, even if it's just to acknowledge the holiday and remind them about your great products.
Today, customers want the brands they do business with to stand for something, whether it's a particular cause or an attitude. Remember, just like any cultural holiday, Cinco de Mayo is about more than just margaritas and guacamole (although, those are delicious ways to add to your celebration, to be sure!), but that's because, of course, Mexican culture has a rich heritage and a varied cultural history in its own right. Brands that choose to celebrate the fullness of the holiday will likely see the best results.
Cinco de Mayo and other holidays that celebrate multiculturalism are a great time to reach out and acknowledge Mexican heritage and culture with a text message. Just make sure you understand that customers might want more than just a free tequila shot.
Try planning a small event and send a text to your customers:
"Happy Cinco de Mayo! What are you doing to celebrate Mexican heritage and culture on May 5? We're hosting a short seminar on Mexican history. Come in for margaritas, guacamole, and a little (important) learning."
This, of course, is an example of the type of event you could host rather than the simple happy hour. But, your event and message don't have to be exactly this. You could send an article or a link to a TedTalk. But why not try something new this year? Why not build community and share something that matters? (If you're wondering, it may be what your customers want you to do anyway.)
Here are some more articles we think you might like:
Spring text marketing ideas to grow your business
Should you text customers from your personal phone?
What is texting software for business?
15 SMS marketing use cases