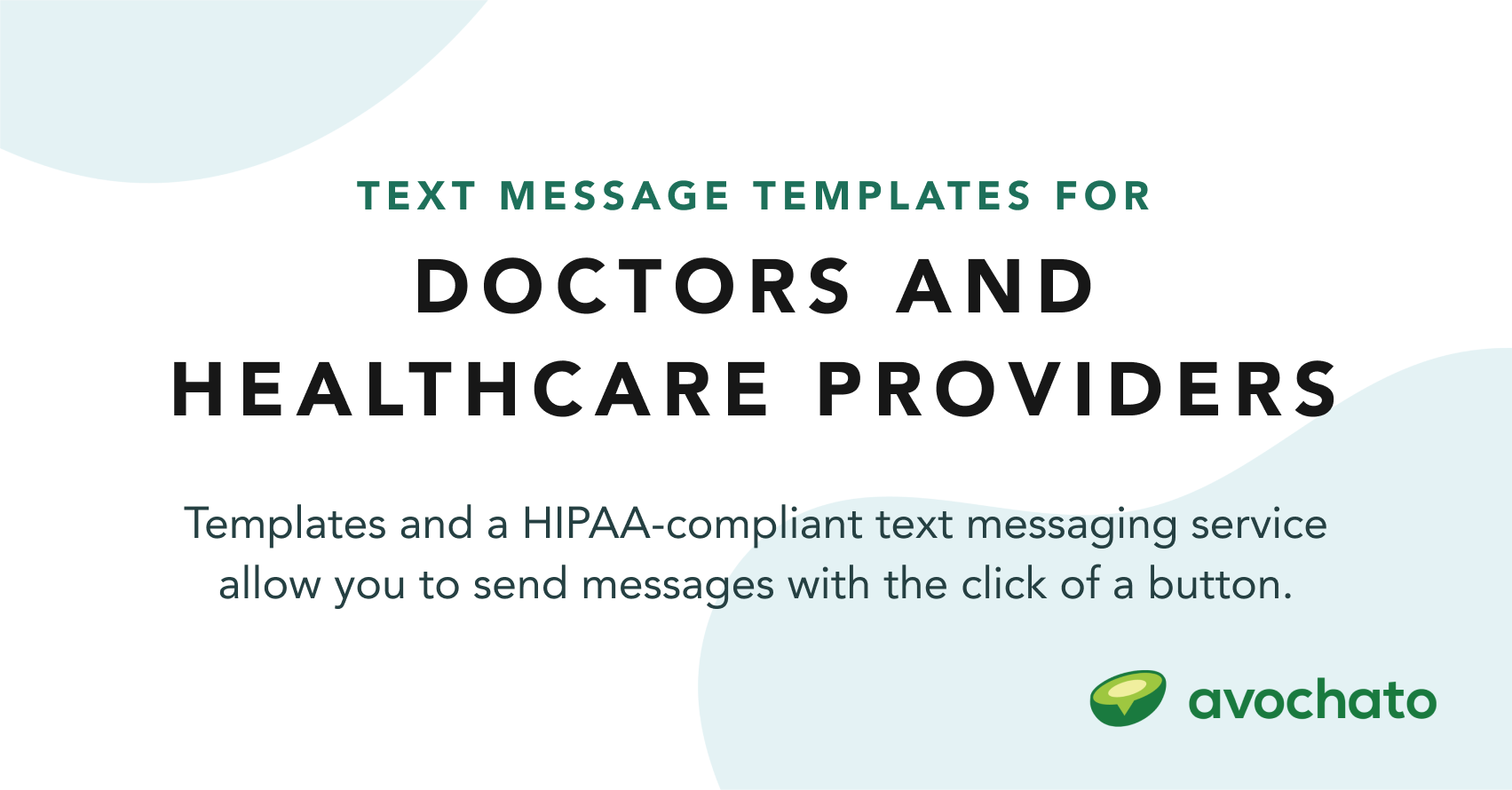 There are plenty of reasons healthcare providers and doctors offices want to start text messaging their patients. Using texts to communicate allows you to manage relationships better than playing phone tag or trying to reach out via email. You can update your patients on important information they need to know but can be said in just a sentence. Sometimes, info like this can improve the quality of your medical services.
One of the best ways to use text messaging for patients, though, is for booking appointments and reminding them about appointments.
Sending a text message to remind a patient about an appointment is one of the best ways to minimize no-shows and late arrivals. Because 98 percent of all text messages are read, you can almost guarantee your client will see the reminder you send them.
Why use text message templates?
Text messaging templates are a great way to save your team time. If you have to confirm dozens of appointments, your staff shouldn't have to spend time sending out each one individually. Instead, using a template and sending your message from a HIPAA-compliant text messaging service allows you to send a message with the click of a button.
Six text message templates for doctors and healthcare providers
Want to start texting your customers but not sure where to begin? Just copy and paste these templates to use for your own healthcare communications. You'll be able to build the conversations from there, but at least you can get your foot in the door.
Keep in mind, messages like these are subject to HIPAA regulations if they include any PHI (Protected Health Information). Read our short text messaging guide for healthcare professionals for more details. Always consult an attorney before sending messages or with questions about HIPAA communications, as this article is intended for your information only and does not represent legal advice.
Scheduling a new client
Hi [name], welcome to [practice name]. Reply with "Schedule" if you're ready to schedule your appointment. Reply "Help" if you have any questions.
Confirm an appointment
Confirmation: You scheduled an appointment with [practice or practitioner name] for [date and time]. Reply with "Reschedule" to change the date or time or "Cancel" to cancel your appointment.
Appointment reminder
Reminder: You have an upcoming appointment with [practice or practitioner name] on [date and time]. Reply with "Confirm" to confirm this appointment, "Reschedule" to change it or "Cancel" to cancel the appointment.
Pre-care instructions
Hi [name], here are some instructions to make sure your upcoming appointment is a success: Please be sure to fast for the 12 hours leading up to your appointment (water is ok) and arrive at least 10 minutes before your appointment time to fill out the necessary paperwork.
Covid-19 protocols
Hi [name], just a quick reminder of our COVID-19 protocols. All patients and practitioners must wear a mask while in our offices. We will be taking all patients' temperatures at the door and ask that you check in at the kiosk in the waiting room and take a seat at least 6 ft. from the nearest person. We have a 10-person max. in the waiting room at this time. Your safety is our priority. Thanks for your cooperation!
Appointment follow-up
Hi [name], thanks for coming in today. We're always looking for feedback from our patients. How was your appointment with [practice or practitioner name]? Is there anything we could have done better to improve your experience?
How to stay HIPAA compliant
If you're wondering if text messages are HIPAA compliant, the short answer is they can be.
You can send PHI via text message and still comply with HIPAA restrictions if (and only if) you use texting software that can prove it's taking the necessary precautions to keep PHI safe (things like strong encryptions, tiered access, logging user activity, and other security measures).
By sending texts through a HIPAA-compliant text messaging solution, you are protecting your healthcare business and your patients' sensitive information.