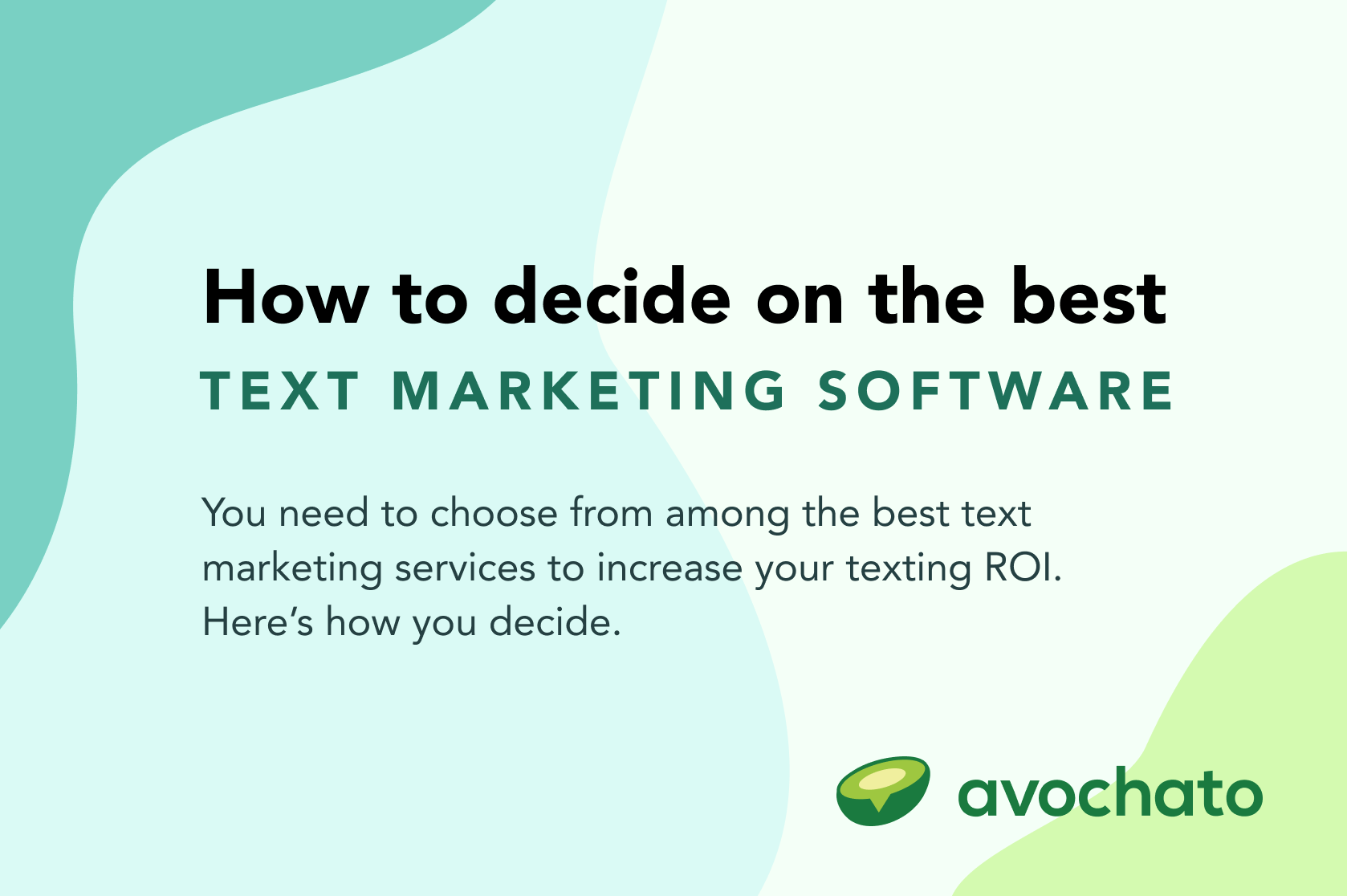 When approaching text marketing, it's important to get what you're looking for and that you know what to expect from the service you depend on.
More than anything else, finding a texting solution that meets your needs is essential. Here are some questions to ask yourself that can help guide you as you begin your search for the best text marketing services.
Question 1: How do I want to use text marketing?
What is it that you want to text your customers about? Some of the best text marketing services are built for large-scale broadcasts or one-on-one conversations. Find a solution that not only has the features you want, but one that actually fits what your company needs. For example, if you know you're going to use text messaging to send conversational texts, you'll need to find texting software that prioritizes customer conversations and makes one-on-one chats easy for the user and your team. Or, if you're certain you want to broadcast promotions or content to your customers, you will want to ensure the texting service you choose is well equipped for that. There are a number of SMS marketing use cases to consider:
Broadcasts
One-on-one messages
Surveys
Polls
Content marketing
Promotions
Lead nurture campaigns
Appointment reminders
Abandoned cart nudges
Text-based shopping
Each of these use cases requires different features from your SMS marketing service. It's crucial to know beforehand what you might want to include in your text marketing strategy so you choose among the best text marketing services for your business needs.
Question 2: How important are time-saving features?
Adding text messaging to the suite of customer communications can mean adding more time and effort for your team to manage. However, if you choose a solution that automates most of the work for you, it can actually help you save time. Features like automated keyword responses and templated messages can save minutes to hours of your team's time.
Question 3: What kind of analytics do I need?
If you're in search of the best text marketing services for sending large volumes of segmented text broadcasts, you'll need to consider analytics. SMS campaigns are run and tracked similar to email campaigns in that there are outbound-specific metrics you'll want to track. Some of the most critical numbers to watch for text campaigns are unsubscribes, open rates, reply rates and conversion rates. Watching unsubscribes gives you an idea how well you are targeting your contact list.
You'll want to find a text messaging software that lets you calculate cost per contact so you can see how much of your budget is allocated to each lead. This will give you an up-to-date picture of your overall ROI. When compared to email marketing, text messaging campaigns have the potential to reach more people by bypassing spam filters. They have a 98 percent chance of being read by your customers. And nine out of 10 texts are read within the first three minutes, which means texting can reach your customers with speed that email can't achieve. This could potentially move leads through the marketing funnel faster and decrease your time to close.
Question 4: Do I need my text marketing service to integrate with my existing software?
Depending on which SMS marketing software you use or how seamless you need your texting to fit into your daily marketing operations, consider integrations. The best text marketing services should integrate easily into software you use everyday, especially Salesforce. That way, you can easily keep contact records in sync and use Salesforce data and triggers to message customers.
You should also look for native integrations that allow you to send text messages right from Salesforce or other apps your teams use all day. There should be no need to switch back and forth between interfaces to do their job.
Question 5: Do I want a multi-channel approach?
Part of finding the right SMS service means discovering how else you want to use your text service to execute customer communications. For example, some of the best text marketing services offer a full suite of communications, including phone calls and live chat. Not all text marketing services offer multi-channel capabilities, so you'll have to determine what services you need before you settle on a text marketing solution that doesn't include everything.
Do you want to be able to create chat widgets and embed them on your website? One of the benefits of including this feature in your search for the best text marketing services is for conversational continuity. You can allow customers to contact you easily through your website's chat widget and let your team keep the conversation going via SMS. One of the benefits of including phone calls in your text messaging platform is consistency. You can keep the same phone number whether you're reaching out to your customers by phone or by SMS.
Question 6: Do I need a shared inbox?
When shopping around for a texting service that fits your business needs, you'll want to ask yourself whether a shared inbox would be of value to your team. A shared inbox allows messages that come in to be routed to the right person on your team — whether it's a sales rep or customer service. This feature provides a way to keep your team in the loop with messages coming and going, and no one directly responsible for any one conversation, accounting for sick and vacation days.
Question 7: How important is usability?
In your search, you'll want to determine how important ease of use is for your text marketing service. For some companies, easy setup, a user-friendly interface and great UX make a difference when searching among the best text marketing services. However, in some cases, especially because you're adding text messaging to your suite of marketing tools, cost can be a prohibitive factor, which can mean sacrificing usability in some cases. Ideally, you'd be able to find an SMS service that has both great ease of use and a low price point so you don't have to sacrifice anything to improve your marketing communications.
Find out more about how the best text marketing services can help you grow your business:
If you're ready to jump in, simply try Avochato for free.