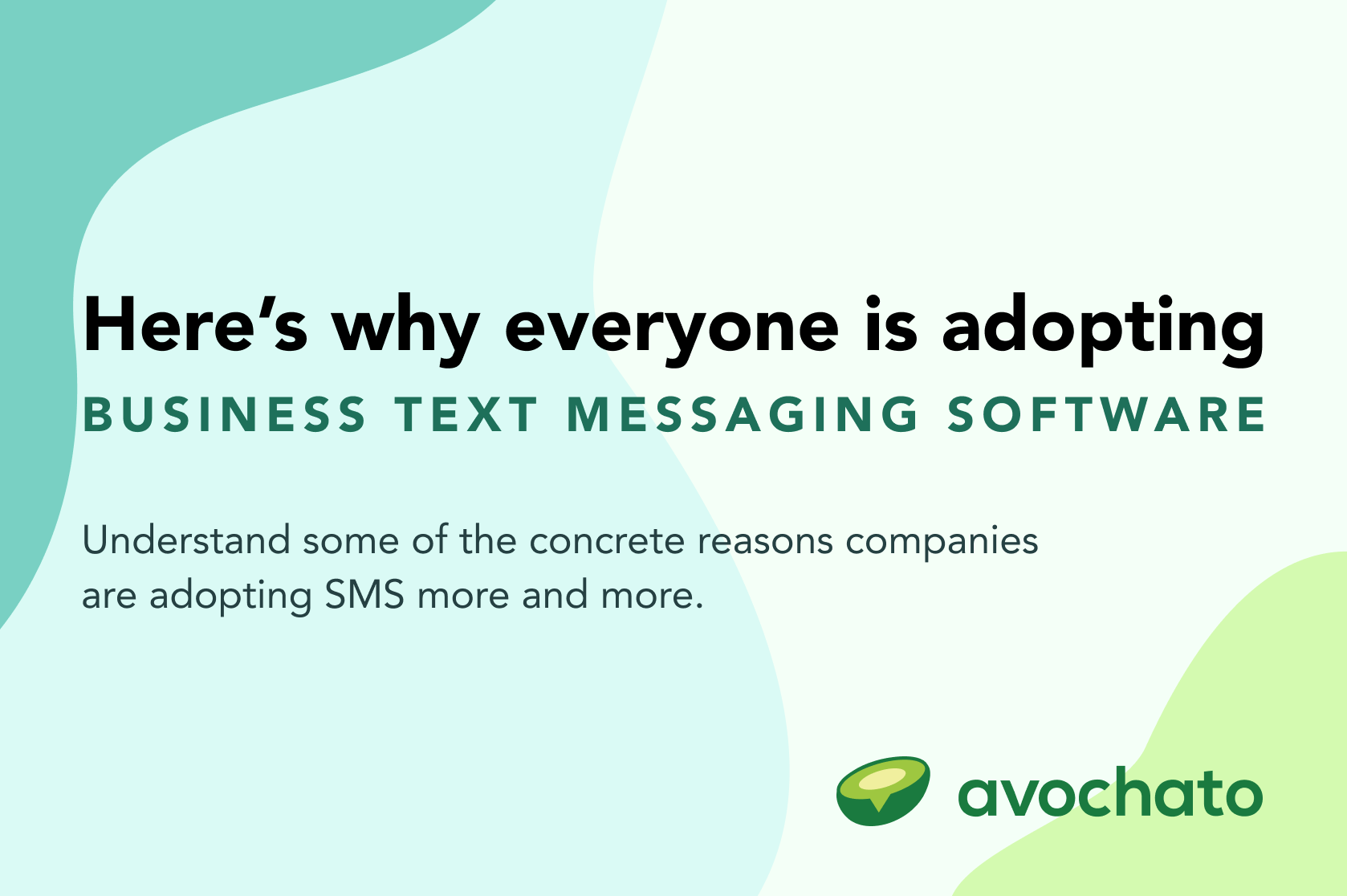 Business text messaging is the next big thing.
Except it's already here.
In fact, half of the top 1,000 digital retailers already use SMS to communicate with their customers.
Companies are starting to see that by adding text messaging software to their customer communications, there are revenue opportunities to be had. It's true that 85 percent of consumers would rather you text them than call or email. And almost two-thirds of consumers say they'd switch to a company that communicated via text. It's what customers want from the companies they do business with.
One major reason for that is that business text messaging software can enhance the customer experience. Order updates can be sent as texts, reminders and confirmations can be sent as texts (something 88 percent of people want anyway). Flash sales, promotions and exclusive deals are all great text-based marketing ideas that drive revenue for companies.
But it's not just marketing that benefits from business text messaging software. It's customer service. More than half of consumers say they'd prefer a text over a call from customer support. And the benefits for businesses go even further, stretching beyond customer-facing communications to internal comms. Business text messaging software can enhance efficiencies within a company, speeding up logistics, scheduling and recruiting, and driving more efficient business practices.
Here are some of the concrete reasons companies are adopting SMS more and more:
Business text messaging software can mean more revenue
SMS marketing has a conversion rate of about 23 percent. That's almost five times more than email's conversion rate, which sits below 4 percent. Never mind the 98 percent open rate that puts email's 20 percent open rate to shame, and the 45 percent response rate that texts receive, compared to 6 percent for email.
But that's just email. How does SMS compare to other forms of marketing? Let's look at ads, for instance. Turns out, text messages convert better than those too. Google ads have a 3 percent conversion rate while Facebook ads have an average conversion rate of 10 percent. Again, business text messaging comes in first by a mile.
The numbers show that not only does text marketing perform better than traditional marketing strategies like email, but it can also convert at a 5x higher rate. In other words, text marketing has the potential to make a business 5x more revenue dollars.
Of course this isn't to say that SMS marketing is the only way to increase revenue, and profitable businesses are dropping all other methods of marketing. On the contrary, text-based communications with customers is more like a (very powerful) tool to add to your arsenal of business comms if you want to increase revenue.
The future is mobile
Americans check their phones an average of 96 times a day. Reminder: there are only 24 hours a day, which means, on average, SMS could get the attention of your audience every 15 minutes.
However, your text message will likely arrive to their phones with a push notification, which means it's possible they could see it immediately.
Either way, mobile communication is up. More people are communicating on their phones (especially via text) than ever before. In 2020, upwards of 48.7 million people opted in to receive business text messages.
But other mobile activities are also increasing. Mobile shopping, for example, has outpaced shopping on a desktop, with two-thirds of online shoppers using mobile apps. In total, mobile ecommerce will make up 79 percent of all ecommerce purchases in 2021.
All of this is to say that consumers are using their phones to text more and more, and they're looking to shop more on their phones as well. Smart companies are capitalizing on this opportunity to reach customers with business text messaging software.
It's fast
Ninety percent of texts are read within the first three minutes. As discussed previously, plenty of consumers receive their texts with a handy push notification, and that notification typically lives on the homescreen, even when the phone is locked. Basically, today's phones are programmed to let people know when they have text messages, which is why business text messaging software is one of the fastest methods of customer communications out there.
Conversations that happen over text message are also faster, which helps improve the customer experience. Eighty-two percent of people say they want an "immediate" response from a business when they have a question.
The speed of business text messaging software doesn't just benefit marketers. It's also incredibly efficient for internal operations and logistics teams dealing with field teams. And it speeds up processes like scheduling for shift workers. Texting is so effective because it's quickly delivered and almost guaranteed to be seen within the first few minutes.
It's ideal for customer service
Poor customer service loses American businesses an estimated $75 billion per year. It's not that traditional call centers and email support are necessarily bad, it's just that using a business text messaging software to communicate with customers for support could not only speed up the process for your team but improve the customer experience at the same time.
A third of American consumers admit that a negative customer support experience — just one — could mean that they would switch companies. Though it's hard to qualify a negative experience, consumers do give clues as to what constitutes a positive experience. For roughly four out of five consumers, that's more speed and more effective help.
We've already discussed the innate speed of sending messages to customers via text. But business text messaging software can also offer more efficient practices for support teams. With the right software, your team could be managing multiple cases at once, and quickly and easily resolving cases. Phone calls and emails don't have nearly the speed and flexibility as text messaging does.
To get quantifiable proof, measure the support discussions your agent or team has every day or week. If you should begin to implement text messaging, you'll more than likely see the number of customer support discussions rises significantly. This is a sign that more customers are being helped, and they're getting the service they need faster.
Interested in business text messaging software?
Business texting is simple, really. It's just a faster way to have two-way conversations with your customers and internal teams at scale.