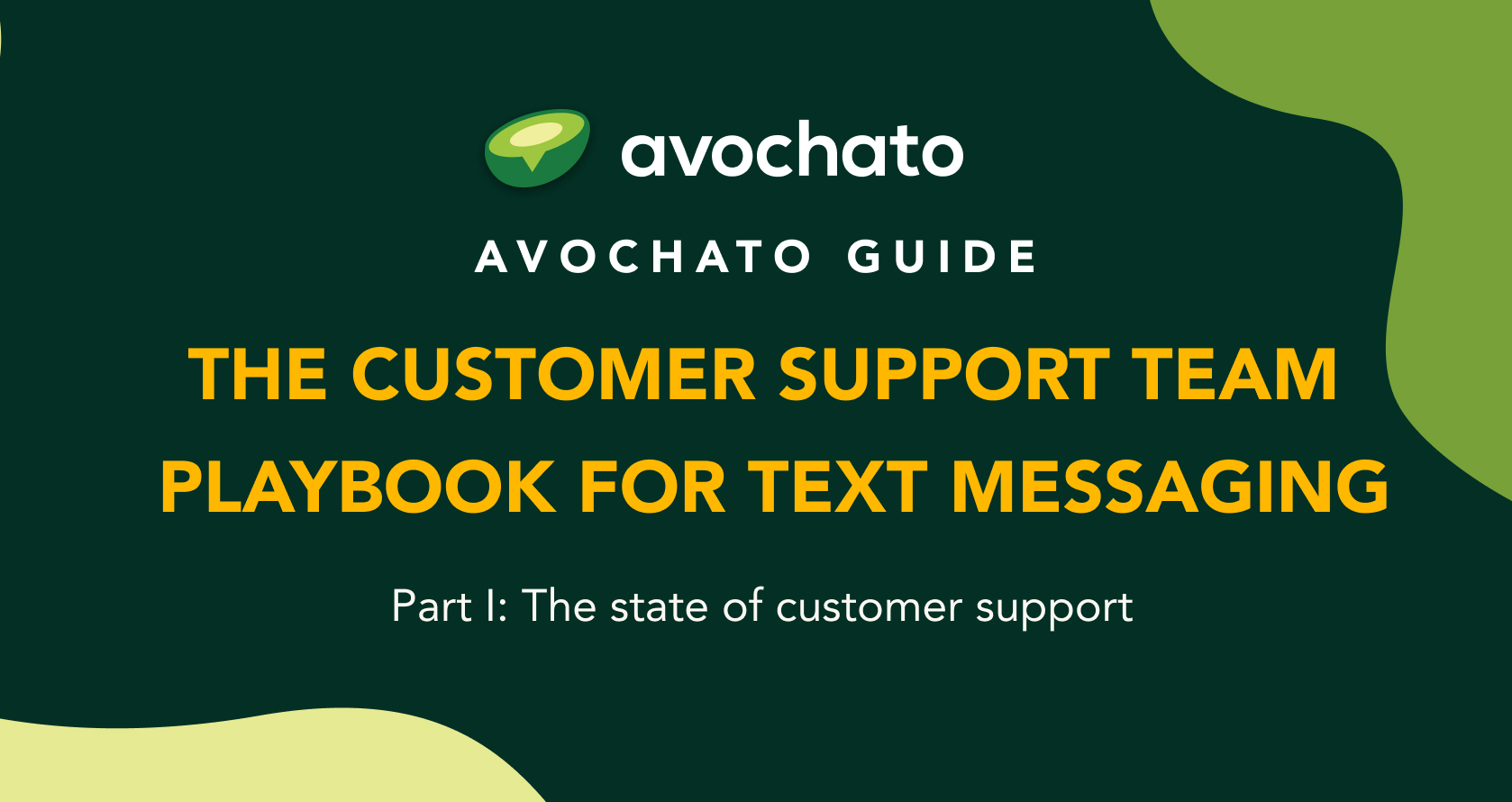 Things can get complicated in the world of marketing.
There are so many different data points to track, softwares to link, leads to manage, content to optimize, and on and on and on. With all these complications, marketers are up against some real challenges, and though there are lots of different possibilities, so much of driving business boils down to a simple question:
Are you communicating with your audience in a way that resonates with them?
Marketing today is about getting the optimal return on your investment. It's about justifying your marketing dollars and getting the best possible response from your audience without wasting a penny. And that means looking at how you're talking to that audience—and the tools and strategies you're using to get and keep their attention.
This is a 2-part guide that will cover:
The state of marketing
How to use SMS for marketing
Today, we'll walk through the state of marketing today and some of the toughest challenges facing marketing professionals. We'll look at text messaging as a channel and determine its value when up against it all.


The State of Marketing
From lead generation to customer lifetime value, marketers are tasked with so much when it comes to driving business.
Today, organizations are relying increasingly on cross-functional marketing teams that are advertisers, customer service reps, salespeople, conversion optimizers, content marketers, and data analyzers, often all at the same time.
Not to mention, one of your primary responsibilities is to prove the value of your marketing efforts, and that's no easy feat.
Here are some of the biggest challenges marketers face when it comes to communicating with customers. Each one of these challenges, when addressed in the best way possible, can not only help drive business, but can also justify your marketing efforts for the simple reason that you'll start to see better results.
Marketing impressions and opens
Unfortunately, one of the challenges marketers spend so much time on is the simple but elusive impression.
Your goal is to make sure any marketing comms you spend money on to put out into the world brings in returns, and those returns start with eyeballs on your marketing content. But, should it really be that much of a challenge to get people to simply see your marketing message? You have software to all but ensure impressions for your ads, but do you have anything like that for your email campaigns?
There is no guarantee that your audience will see your email like there is a guarantee for your ads because it's up to your audience whether they want to open these messages from you or not. That means, the decision to view your marketing comms lies in the hands of the consumer. So, you can spend days trying to test and choose the best subject line and still likely see an open rate that's below 30 percent...or you can try a different approach.
There are over 6 billion text messages sent every day.
It's one of the most popular forms of communication today, which means that your audience is more likely to read and even respond to your marketing message, simply by nature of the channel itself. In fact, text messages have a 98 percent open rate. Compare that to email's 20 percent average open rate, and there's no argument.
If you want your marketing messages to be seen, text messages are more than likely going to increase your chances...by a lot.
For those of you who are targeting older or more sophisticated audiences and don't think texting is a channel that will work? 69 percent of people from all generations say they would prefer texts to phone calls from an unfamiliar brand.
And, for those of you in B2B who don't think B2B text messaging is an appropriate medium? Well, 61 percent of people say they want businesses to text them while they're at work.
Yes, your audience plays a huge role in the channel you choose, but the trends right now are pointing towards successful SMS marketing. It's worth adding it into your marketing comms channels for the almost-guaranteed increase in views your messages are likely to get.
Brand loyalty
One of the biggest hurdles for marketers will always be increasing and maintaining customer loyalty. How do you catch and keep the attention of your customers so they bring in more value over time? Most marketing teams don't just look at the one-time sale, but they consider the entire lifetime value of their customers. Customers, at the same time, are looking to connect with the brands they do business with.
They want to establish a connection with your brand. You just have to make that easy for them.
One of the best ways to do this is to not let them forget you. That doesn't mean pester them until they agree to make another purchase, but it means don't fall off their radar altogether.
So long as your customers and leads are subscribers, that means they've agreed to hear from you. The best case scenario is that they expect to hear from you and may even want to. The worst case scenario is that they forgot they were subscribed and don't want to hear from you at all.
To thread the needle between staying top of mind and being annoying can be tricky, and this is where a lot of businesses go wrong. However, as long as you nail three critical factors, you will be able to maximize brand loyalty.
Nail the channel.

Ideally, you already know your audience and you know the best way to communicate with them. Most businesses will use email, and that's perfectly effective in some cases. But email has an abysmal open rate (20 percent) and an even worse response rate (6 percent) compared to other channels, so if your audience is receptive to it, you should consider adding text messages to your suite of marketing comms channels. The reason text messaging is the ideal channel for enhancing brand loyalty is twofold. Texting has some distinct benefits over email when it comes to being seen. As we discussed, almost all (98 percent) of text messages are read by the recipient. Also, texting has built-in conversational abilities. You can easily have a quick, conversation-like back and forth, which saves time and is ultimately the most humanizing means of communication you can have with your customers.

Nail the content. Make sure you're offering your customers something of value. They don't want to get messages from you unless you're communicating something of meaning that will enhance their lives in some way. If you don't have anything to say, it's better not to say anything (or, more realistically, think of something great to offer and then say that).

Nail the frequency. You don't want to bombard your customers with too many marketing messages, but at the same time, you want to be fresh in their minds. So, how can you pull off the perfect frequency that will increase brand loyalty and not your unsubscribe rate? The answer is not the same for everyone, unfortunately. It's going to depend on your audience, your product, your other marketing comms. So, test, test, test. Find out what the sweet spot is for your business. As long as you're sending meaningful, personalized content via the right channel, you'll be able to discover the right frequency that works for your audience.
Do these three things well, and you'll most likely be on your way to stronger brand loyalty.
Lead generation
This is a big one.
So much time and energy is spent in lead generation. Most enterprise companies have entire roles, and sometimes teams, dedicated to this singular function.
And yet, so many teams either struggle to get the leads they want or they know they can simply do better.
So how can you generate more leads? There are a number of ways, of course, and most of them start with your website. One of the most overlooked ways that can make a significant improvement to your lead gen numbers is a simple chat function.
Here's a scenario to consider:
Someone visits your site, already having researched the type of products you offer, already having read through your content. This someone decides right then and there that they want to learn more than what's on the website.
They're out of things to research on your site, so they want to reach out to you. They, of course, prefer to talk to a person (4 out of 5 consumers do), so they can get a sense of the price of your product and how they can use it for their own purposes. This person will probably start to search your site for a quick way to ask their pressing questions, but if your business doesn't have a live chat widget, they won't find one. All they're likely to find is a contact page with an email and a form. Or a phone number. They may fill out the contact form, but they probably won't straight- up call you.
Rather than fill out a form and wait a day for a response or (yikes) give your business a call, they decide to just click on the other tab they just happen to have open...and it's for your competitor. Voila! This someone finds a live chat widget on that site, reaches out quickly and easily to your competition, and you've lost that lead.
Losing a lead is so simple and takes less than a couple of minutes.
The idea is this: If you've got your SEO tuned in, people will visit your website. If even some of them really like what they see, they'll want to talk to someone at some point. Assuming that at least some of the visitors to your website become interested in your business or product (that's the purpose of a website, is it not?), their next step will be to reach out and make contact with you.
Your job is to make that as easy as possible.
And that's where live chat comes in. Live chat is your open door. You can make it so incredibly simple and painless for customers to ask a question so they don't go seeking the path of least resistance someplace else.
All that to say this: Marketers who want to generate more leads should consider installing a live chat function on their website.
For those of you who already have chat on your site, consider whether it's a human on the other end or a robot. People want to talk to people, not bots. They hate chatbots, on the whole. And who can blame them? If your live chat connects an interested consumer with a real person, your chances of securing that lead could skyrocket.
Live chat isn't text messaging, exactly, but when it's tied to your text messaging software and you can take your chat widget conversations offline, the two become a powerful lead-generating combination.
Conversions
There are so many ways marketers can increase conversions. You're no longer required to guess. There is software out there that can help you see where people are clicking and hovering when they're on your site. There are agencies that can help you optimize your landing pages to make sure they're converting better.
But there is also something that doesn't require hiring an agency that can increase your lead conversions, and it's tied to one of the previously discussed tools: live chat.
Let's say your traffic is high and conversions, not so much. Your audience is coming to your site but they're not buying anything or signing up.
As we discussed, having a live chat widget on your site makes it easy to interact with a real human on your site and get their questions answered.
But what do you do with them after your conversation? You can probably pass them off to sales if you think there's enough interest there or simply thank them and collect their contact information to add to your email list.
Or.
Or, if your live chat widget is connected to your SMS software, you can start sending thoughtful, relevant, interesting content to your new leads.
Live chat on your website may be the entryway, but the text messages that follow the next day, week, or month can nurture those leads to make a purchase and then beyond, until you have a high value customer.
Without text messaging to support it, live chat can generate more leads, sure, but it leaves something lacking. You're better off continuing the conversation as much as you can, keeping your product top of mind while the lead is still hot. Don't let the lead forget how much your offerings will change their life. You can send them valuable content and exclusive deals—all personalized—and you can be almost positive that they'll see your communications.