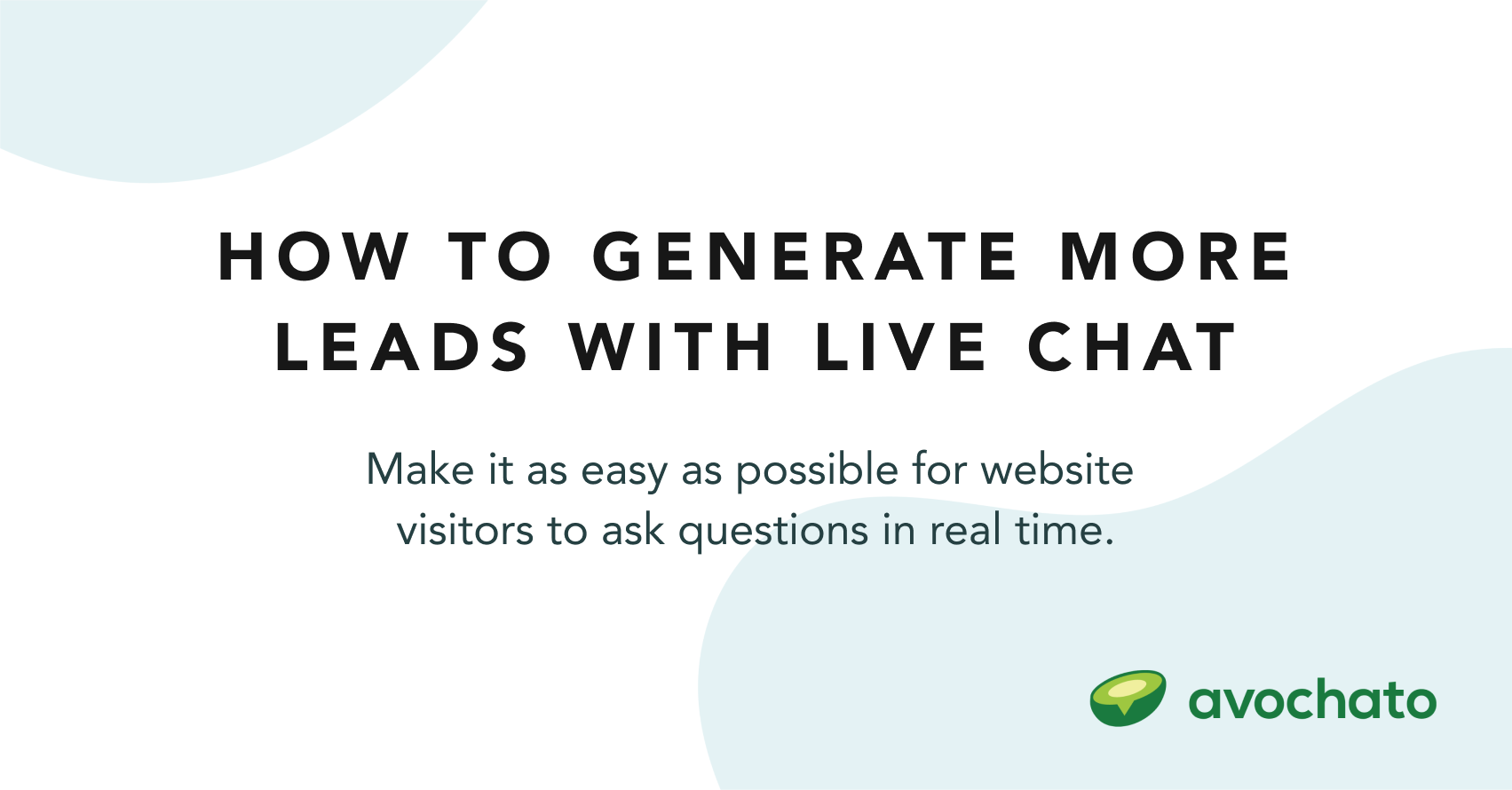 If your website traffic is high, but you're not collecting the number of leads you want, you could be facing any number of UX issues. One of the best tactics to employ to start improving your lead gen right away is live chat.
Imagine someone coming to your site, already having researched the type of product you offer, reading through your content again and deciding they want to learn more than what's on the website.
They prefer to talk to a person (4 out of 5 consumers do), so they can get a sense of the price of your product and how they can use it for their own purposes. This person will probably start to search your site for a quick way to ask their pressing questions, but if your business doesn't have a live chat widget, they don't find one. All they're likely to find is a contact page with an email and a form.
Rather than fill out a form and wait a day for a response, they decide to click on the other tab they have open—it's for your competitor. And, voila! They find a live chat widget, reach out to the competition, and you've lost that lead. It all took less than a couple minutes.
The idea is this: People will visit your website. If they like what they see, they'll want to talk to someone at some point. There is something about establishing a human connection, especially for higher-ticket products, that helps secure a lead. Assuming that at least some of the visitors to your website become interested in your product, their next step will be to reach out and make contact with you.
Your job is to make that as easy as possible.
How to generate more leads with live chat
This is where live chat comes in. As a widget on your website, exactly where your customers are looking for a way to reach out, your live chat will be waiting. Having a widget like this catches leads that might otherwise get distracted when they can't find a way to contact you as soon as they want to.
If you make it easy to interact with a real human on your site—offer them the option to talk to an agent and answer their questions—you have captured that lead.
Or, you can send abandoned cart reminders or pass the leads off to sales once they demonstrate interest. There are lots of ways to push them up the funnel if you start with live chat.
It's all about the live-chat, SMS bundle
It's true that 97 percent of businesses that text their customers say that using text messaging helps them communicate better with customers.
The beauty of a live chat feature that's connected to SMS is that you can add these leads to your list of contacts and—after making sure they've opted into your comms first, of course—you can use that list to send thoughtful, relevant, interesting content to your new leads.
Bundling your live chat and SMS communications together gets you access to leads even after they leave your site. The chat may be the entryway, but the text messages that follow can nurture those leads to make a purchase and then beyond, until you have a high value customer.
Without text messaging to support it, live chat can generate more leads, sure, but it leaves something lacking. Your best bet is to continue the conversation as much as you can, keep your product top of mind and don't let the lead forget how much your offerings will change their life. You can send them valuable content and exclusive deals, and you can be almost positive that they'll see your communications. Text messages have an open rate of 98 percent. If you opt for emailing your live chat leads, you might struggle to get them engaged, since email's open rate is only 20 percent.
A great example of this in action is wh Law, a growing law firm in Arkansas. The firm uses live chat to generate more leads and then text messaging to engage them further. SMS allows the firm to schedule consultations with customers quickly and keep them engaged. Since starting to use live chat and texting together, wh Law has seen a 40x return on their investment and six figures in additional revenue.
The chat-text duo starts with a boost in lead generation, and turns that into valuable long-term relationships with customers.


Here are some other articles you might like:
SMS is the channel your customers want
Top 3 principles for communicating with customers in 2021
Here's why everyone is adopting business text messaging software
What makes a good brand experience?