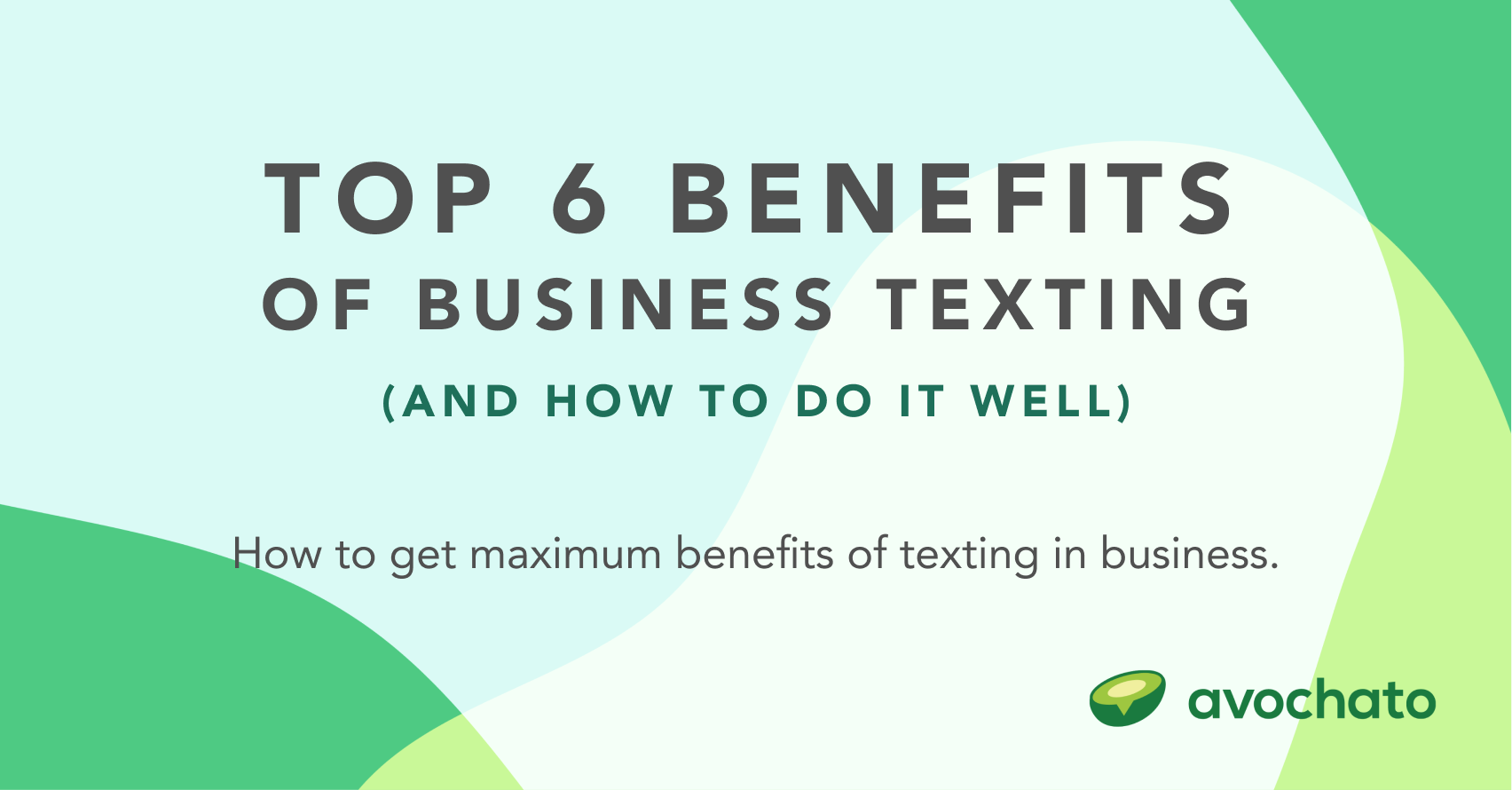 If you have the choice between your emails and text messages, which is the first thing you would check?
If you are like most people, you will open a text message first before opening an email. The text message is succinct, quick to read, and can likely be responded to in a few seconds. You can even read the SMS message just by looking at your phone's lock screen. There are lots of benefits of texting in business that go beyond the basics of meeting customers where they are (on their phones), which is why companies that choose to use a text messaging service for business tend to nail customer communications.
In the past, SMS has been limited to communication between individuals. But as people have become more comfortable with the technology, they have come to understand its value in professional environments as well. Today, whether with start-ups, medium-sized businesses or large enterprises, text messaging services for business play a vital role in leveraging a brand and creating powerful sales and marketing strategies.
According to Gartner, emails are opened 20 percent of the time, on average, whereas SMS text messages are opened up to 98 percent of the time.
This clearly shows the power a text messaging service for business can have. As a business owner or a marketer, if you are wondering how you could reap the benefits of texting in business, then keep reading this post.
We are going to talk about how you can get the maximum benefits of texting in business. Let's get started.
1. Texting is versatile
Many people across the world use SMS text messaging, and businesses are no exceptions. From sales and marketing to customer support, all can use text messaging to get better results.
Brands can use text messages for various purposes: reaching prospects and customers, providing information, communicating a sales promotion, generating leads, offering coupons, sending appointment reminders, providing customer support, or announcing new products.
Simply put, SMS text messaging is an active communication channel that gives you complete flexibility when it comes to sending essential messages or information quickly for whatever your business purpose may be.
Research shows that SMS text messages open rates are 98 percent opposed to 20 percent for all emails. On average, it takes 90 seconds for a person to respond to a text message and 90 minutes to respond to an email. There is no doubt that people are more likely to read SMS text messages over any other type of marketing communication.
Between the growing number of distractions and short attention spans, it is difficult to get your message in front of potential audiences. However, when you use SMS text messaging correctly and at the right time, it becomes more effective than other traditional channels like phone or email.
Insider tip: Boost your new content or products through a text message along with an email and measure which campaign has more conversions.
2. Text is download-free and doesn't require internet
Around 4.68 billion people around the world own mobile phones.
SMS is a pre-installed messaging function that you can find on any phone. In fact, this is the only function by default on all mobile phones for messaging purposes. You don't need the internet to send and receive text messages, which makes it one of the most convenient communication tools on the planet.
Even customers who do not have smartphones have the capacity to engage with an SMS campaign straight from their phone, a distinct advantage over any other digital marketing channel.
There is no doubt that SMS is one of the most reliable tools to reach your customers compared to Facebook Messenger, voice, email, and other channels.
Insider tip: Keep your text messages under 160 characters so that people without smartphones can read it comfortably as well.
3. People prefer texting over calling
Believe it or not, consumers prefer messaging as communication over calling. It makes sense when you think of what you are most likely to prefer. People would rather receive texts instead of getting phone calls, especially when they are in public places or work. Unsurprisingly, younger generations also prefer texting over calling, and older generations are increasingly leaning toward text over phone calls as well.
Consumers may not expect a personal connection and communication with whom they are doing business, but they certainly appreciate it. As scam calls are becoming more common, most consumers don't even answer phone calls from anonymous numbers, and email services automatically filter out many mass marketing emails.
Insider tip: Create a more personal connection with your prospects and customers by interacting with them over text like you would a friend or family member.
4. Texting is cost-effective
Business text messaging doesn't cost you much. Even when you send bulk SMS messages, the cost can be affordable compared to other marketing options that could drive your budget through the roof. Since texting is more cost-effective, it makes it an excellent choice for all businesses.
Even if you are a start-up or a small business owner with a limited budget and looking for the best and effective ways to advertise your brand, then a text messaging service for business is an excellent place to start.
At little cost, you can add that extra edge that could push you ahead of your competitors.
Insider tip: Start with a free trial with a text messaging service for business, like Avochato, and see how your business can use texting at a low cost.
5. Texting is easy, customizable, automated, and trackable
A whopping 98 percent of SMS text messages are read. However, with limited characters, it becomes challenging to track how your SMS marketing campaigns are performing without custom tracking.
With most platforms, setting up a text message campaign is simple and it can be customized at any time with automation rules as well.
When you use the Avochato text messaging service for business, you can send custom-tailored personalized texts to your target audience at one time using a local phone number. This allows you to customize, automate, track, and analyze your text campaigns without any hassle.
Insider tip: Use MMS to include an image in your message and see if that increases engagement.
6. You can connect with the customer anytime
Did you know 80 percent of smartphone users in the US check their phones within 15 minutes of waking up? Business text messaging is one of the most effective ways to reach out to your customers anywhere at any time, although discretion is certainly recommended to avoid being too invasive.
Undoubtedly, there are many benefits of texting in business, and one of them is that it allows you to connect with your potential customers when they otherwise would not be thinking about your business. On the other side, customers can also reach and connect with your customer support when they have any questions or concerns.
Insider tip: Test what time of day works best for your customers on a granular level.
Conclusion
SMS text messaging gives your business an edge over your competition.
Once you have the phone numbers of your customers, you can easily send them relevant SMS marketing messages from your business phone numbers that will feel personal and professional.
If you want to boost your business, then you can opt for Avochato's text messaging service for business. You can sign up for a free trial and see how it can take your business to the next level.