15 Best Practices You HAVE to Follow Sending Business Text Messages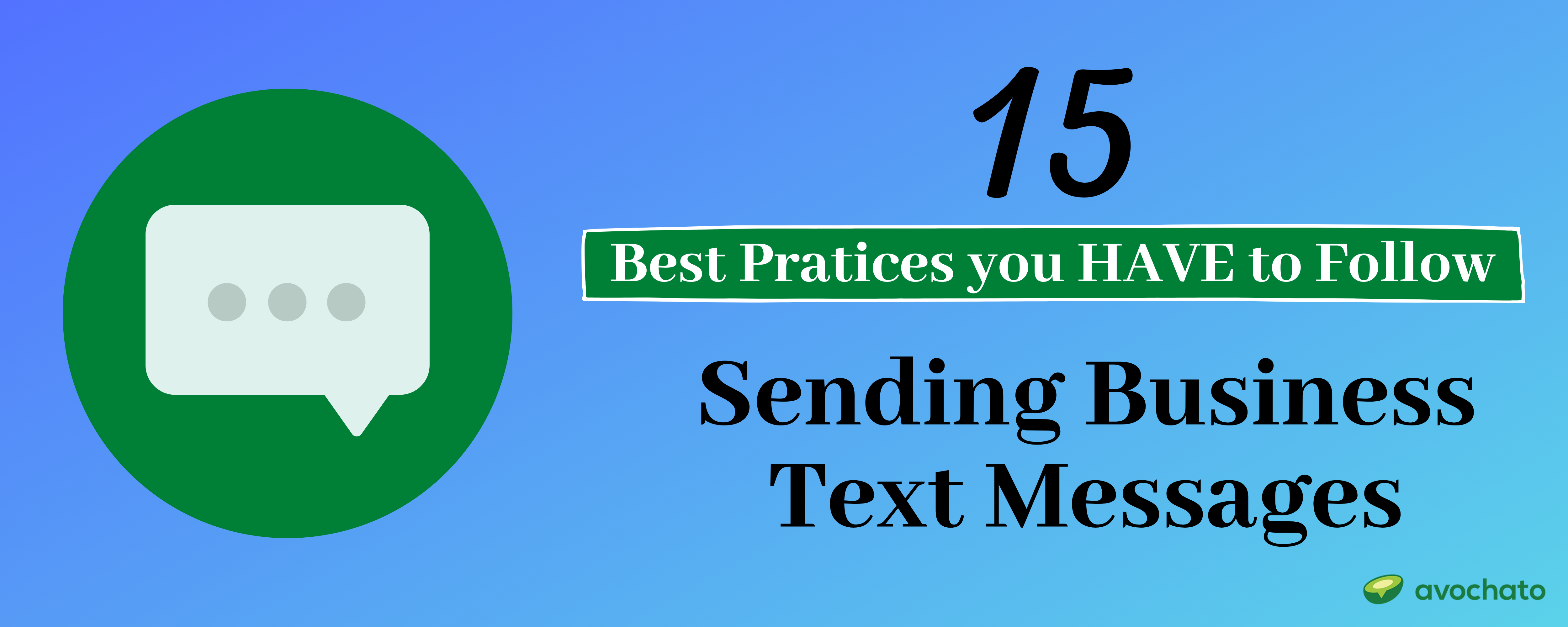 Texting has become the preferred method of communication for everybody who owns a phone. So as a business, there are many benefits to sending your customers text messages, from new promotions to hours of operation updates to appointment changes.
Business text messaging has become part of every brand's messaging strategy.
The value of texting your customers is apparent and something that your business has decided to adopt, but how do you get the most out of it?
And what are the best practices for sending these messages?
This article will give you 15 best practices to follow when sending business text messages.
Let's get started...
SMS Texting Etiquette
1. Never Forget to Get Permission
One of the most important business texting etiquette is to make sure you are requesting permission from your customer to contact them via text message. Ensure you have explicit consent before sending them any messages.
Actionable Tip: Include an opt-in checkbox in the same location where a customer enters their contact information.
2. Introduce yourself
Making a good first impression is always very important, and when texting your customers, it is no exception. Customers expect a conversation tone and want to be able to trust your brand. Once you establish rapport, it will be much easier to capture the customer's trust.
Actionable Tip: Use simple contractions (I'll, We'll, etc.) and a personal style (I, You) to make the tone more conversational.
3. Use Short and Succinct Messages
Text messages are meant to be convenient for your customer, so keeping it short and digestible in a few seconds is ideal.
Actionable Tip: SMS regulations only allow 160 characters. Staying under is an easy way to keep things short and to the point.
4. Be Aware of SMS Restrictions
SMS messages only allow you to use 160 characters and no direct images. These will help you keep your message brief, but keep this in mind when you are in the planning phase to ensure your text message is still getting across.
Actionable Tip: Some emojis can count as up to 4 characters, so be careful when crafting your messages to ensure they are within the proper character count!
6. Send Texts at the Right Time
Another texting etiquette is ensuring your customers receive text messages at the right time in their customer journey by segmenting your user base. You would not want to send a welcome blast to a loyal customer.
Actionable Tip: Have specific automated triggers that will segment your customers and prospects to ensure that a customer receives their message at the right time.
7. Avoid Links
Many carriers will filter out text messages that contain links and flag domains, so keep these limited, especially when sending in bulk.
Actionable Tip: Tell customers how to access the information or new deals with partial URLs and Promo Codes, but don't link directly.
8. Avoid Referring to Other Numbers
Many carriers consider placing other numbers inside your text messages suspicious and will filter out those messages as spam.
Actionable Tip: Provide a toll-free number instead, or avoid putting other numbers entirely. You are already connecting with them anyway!
9. Vary Your Messaging
Carriers will flag a duplicate text message as spam, which will negatively impact your text messaging performance and deliverability.
Actionable Tip: Ensure each message is different from the last. Having varying messaging will provide a more engaging experience for your customer.
10. Allow for Opting Out
Always make sure that your customer has the option to opt-out of your messages by sending a keyword back to your number. While an Opt-out message doesn't need to be a part of every text in your conversation, it is essential to clarify at the beginning of your texting relationship.
Actionable Tip: Include a message at the end of your initial introduction making the user aware they can cancel at any time.
11. Use Conversational Language and Avoid Spelling Errors
Using conventional language allows for a more conversational tone with your customer and gives them a more personal feel.
Spelling errors are a big no-no. If a customer receives a text message with a spelling error, it will delegitimize the messages and cause the customer to lose trust in your brand.
Actionable Tip: Give yourself "send button anxiety," make sure you are double and triple-checking all of your messages for spelling and grammar.
12. Use Quick Responses
Ensure you are prepared to respond to customers quickly. It lets your customer know you are there for them when they need you and will give them a very positive experience.
Actionable Tip: Quick responses will make each customer feel like a VIP. Set up automated triggers that will either send a message or flag someone on your CX team to respond ASAP.
13. Maintain the Proper Cadence
Maintain a reasonable cadence for messages. A few messages per week is generally ok, but don't text customers every day unless they're expecting that type of volume.
Actionable Tip: Send enough messages to keep top of mind for the customer but not to be bothersome. 2-3 Messages per week should be your upper limit without engagement from the customer.
14. Add Call to Action
In order to engage your audience further, make sure you include a call to action for your customer to act on.
Actionable Tip: A call to action can include rating the service or product, confirming an appointment, approving a job or service, etc.
15. Always Provide Value to The Audience
If a customer is opting to let you contact them directly, you have to make sure you are providing value with every message you are sending them.
Make sure you are giving them a reason to stay opted into your texts!
Actionable Tip: Provide information for them that they can't find anywhere else.
How Avochato Fits with All Above Business Texting Best Practices?
The Avochato team will ensure that your customers' communication is in line with all of these best practices and will ensure that your customers are engaged with a personalized business texting solution for your business. Check out some of our marketing examples and cases!
Reach out to the Avochato team to learn more!
Here are some other articles we think you might like:
54 text messaging stats every business should know
Should you text customers from your personal phone?
What's the Best Time to Send an SMS Marketing Campaign?