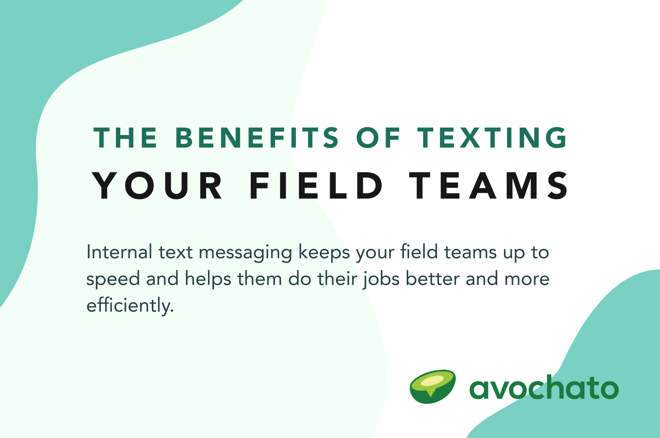 Internal text messaging is crucial to keeping your field teams up to speed. Communicating this way helps them do their jobs better and helps you schedule and talk to your team with more efficiency.
Here are some crucial ways texting can solve communication gaps in the field:
It's hard to reach teams in the field
The traditional way to reach teams that don't work behind a desk but instead need to be contacted in the field, on the go, is to call or email. But the ways of the past just don't work in today's world where speed and business go hand in hand.
It's too tough to reach field teams by phone. That's too much time for your coordinators to waste. It could mean hours of calling and leaving messages and calling back. When you need an immediate response, you need something faster, something more realistic.
Email is no better. In fact, it's worse. Drivers, movers and other field teams can't be expected to log into their email to check if there are messages. It's not direct enough and certainly doesn't get sufficient responses necessary to run a business.
Text messaging wins where traditional communication lapses.
A quick text to communicate with your team members does wonders. Two Men and Truck, for example, is the fastest growing franchised moving company in the U.S. Depending on the season, the TMT team can reach up to 125 employees. Calling this vast number of employees via phone, especially as the company was growing, was becoming impossible. A switch to text messaging, though, saw immediate results. Texts improved the team's efficiency and even allowed movers in the field to be reached with real-time information about the job, without a hitch.
Texting for field teams saves time and time is money.
What if your field team isn't always on the go? Sometimes your teams are on call, waiting for you to contact them about their shift. Using phone calls and emails to coordinate work shifts can't get in touch fast enough for efficient staffing — not the way text messaging can.
The team at Consolidated Medical Staffing was originally relying on phone calls and emails to get in touch with nurses and coordinate work shifts. But they needed faster confirmations from their workers and ended up spending hours on the phone trying to get one shift filled. They needed a faster method of communication that would get quicker responses from their team members and coordinate shifts with ease.
When Consolidated Medical Staffing turned to a scalable text messaging solution, everything changed. They were able to send messages to multiple locations to ask for their needs with just a few clicks. And, they can send out the staffing needs to their database of medical professionals, receiving more timely responses. In short, text messaging meant better communications and positions filled faster.
Learn more with our guide for text messaging in healthcare.
It lets your field staff get in touch with you more easily
Not only does text messaging allow you to reach your field team much faster, but it helps them reach you. Think about it: Would your staff be more likely to respond back to a text message than an email? In the case of Family Matters, specialists in senior care, the answer was yes. Whereas email meant their staff wouldn't get back to them in time (or sometimes at all), SMS saw much faster, and many more, responses. Their team was able to get in touch with them if they had to cancel a shift and if they had questions about a particular client.
Text messaging is a two-way channel in ways that email is not, especially when dealing with professionals who don't work behind a desk. SMS is also much more convenient than other modes of communication, like phone, for instance. Texting, of course, is quick and easy and ideal for letting your team get ahold of you.
Quick response time from your team
It's important to get fast replies from your team when you're dealing with staffing, of course. But what if your staff needs are timely in a different manner? Consider this example: imagine you run a hospitality company that needs to communicate with a maintenance team. You need a way to get the message to your staff, get them in and out so maintenance is effective without inconveniencing guests.
Email and phone calls are the slow way of taking care of this part of business and are nowhere near as effective as text messaging. Texting maintenance staff means quick, efficient jobs well done, which is great for business.
Scalable texting is the only solution
When it comes to finding a text messaging solution that works for your team, you need something that's scaling. Especially for growing teams or businesses working with dozens of field pros, scalability is absolutely essential. If you can't conceivably text everyone, then what's the point?
Some texting solutions don't make scalability easy, which, when teams like yours go down that road, can be a waste of precious time and resources. What you need is proper scalability that allows you to text whoever you need to, whenever you need to. (Learn about Avochato's scalable text messaging features.)
There are so many ways your field team can benefit from text messaging. Efficiency, speed, responsiveness, scalability. Maybe it's time to consider SMS and all it has to offer.

Learn more about Avochato's text messaging service.
Read More: