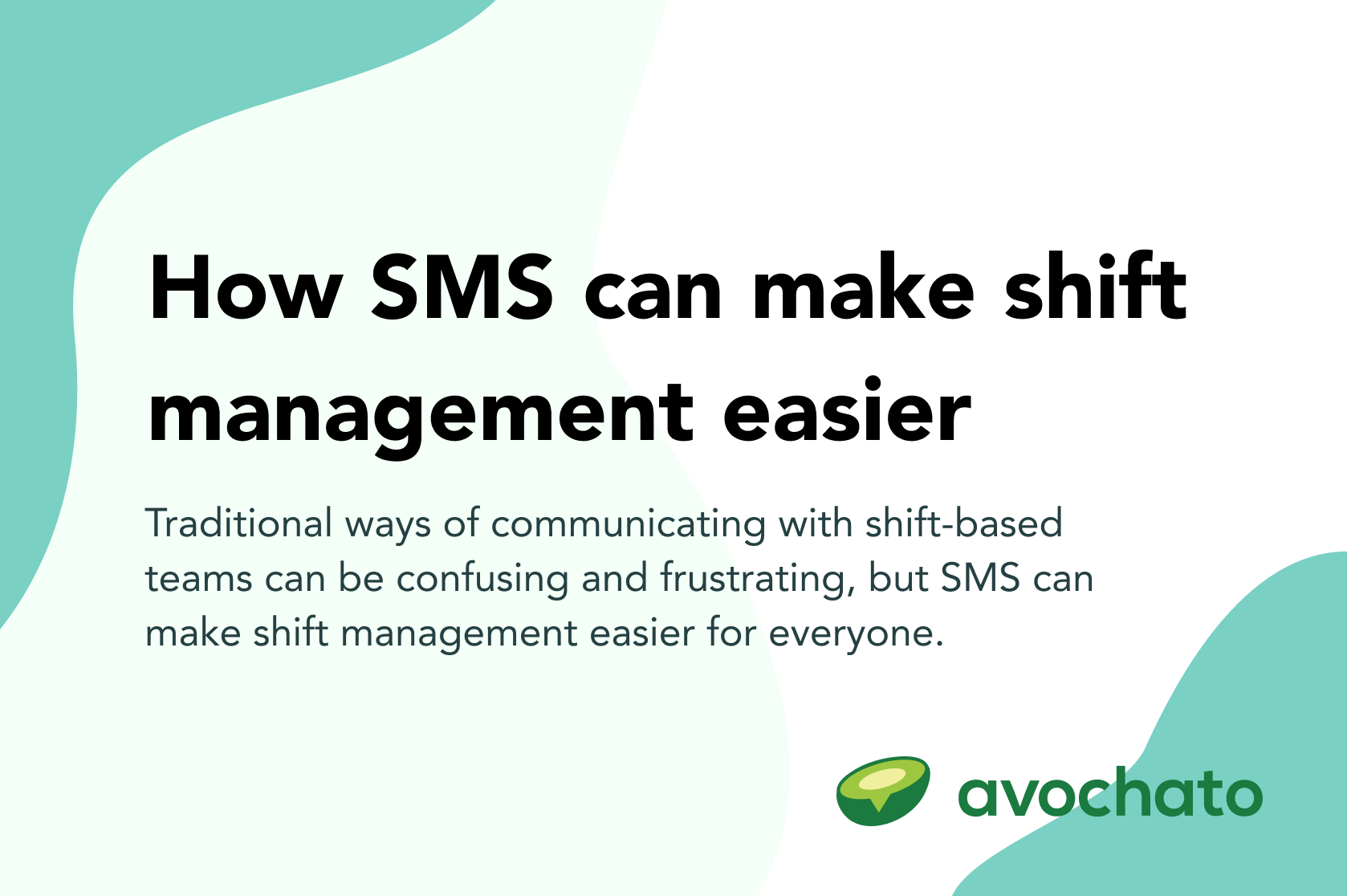 Struggling to manage your shift workers?
Traditional ways of communicating with shift-based teams can be confusing and frustrating for all involved. Shift managers often spend too much time trying to fill shifts and manage the master schedule, and when emails and calls go unanswered and there's an urgent need, that causes panic and confusion. For your team, traditional scheduling processes and slow communication methods can keep them in the dark about their shifts, their work and any questions they might have.
Text messaging for shift management
Here are some of the best ways SMS can make shift management easier for everyone:
They'll see your messages
With SMS for shift management, you're almost guaranteed that your employees or team will see your message. That's because 98 percent of all text messages are opened, and 90 percent of them are read within the first three minutes. Email is only read, on average, 20 percent of the time, and calling can result in an unreliable game of phone tag. When you text, you can rely on your team seeing your shift scheduling messages.
Texting saves time
Send a quick and easy text asking about schedule or send a link to the scheduling calendar.
Texting is one of the quickest ways to reach shift workers today. Using SMS for shift management ensures that you're using the fastest possible solution to get your shifts filled. You know who is and who is not available well before you have to fill any particular shift. Your employees are happy because they don't have to spend time wondering when they'll be on the schedule, and you don't have to waste time waiting for phone calls back or email replies.
You can send shift reminders
If your team needs help occasionally remembering when their shifts are, or if you're struggling with no-shows at work, text messaging can help you remind employees when their shifts are. With automated shift reminders sent via SMS, your team won't be confused about their work times, forget, or miss a shift. Just as customers can be sent text reminders about appointments, your text messaging software can help you create automated messages that are sent when a shift is scheduled and a reminder before a shift starts.
You can automate other messages
When you have a sudden shift change or an employee can't make it in, you need to reach only the applicable employees to fill that position. You don't need to reach out to everyone, but you need a way that's faster than reaching out to each person one by one. SMS for shift management helps you segment your contact list and send an automated — personalized — message to only the employees you want to reach. You can send survey-style messages to check their availability, or you can send a more personalized message. However you want to reach them, sending batch text messages instead of sending emails or calling will save you time and stress to fill that shift.
Better overall communication
Scheduling shift workers can be tough on an organization's communication. Businesses and employees can get frustrated when scheduling isn't done in an organized, timely manner. If there's confusion about when someone's working and there's no good way for them to ask questions, shifts get missed or workers can become fed-up with the process.
Phone calls too often go to voicemail, and then it's a game of phone tag. Emails generally go missed, especially when you're contacting people who aren't in front of their computers on a regular basis. Text messaging helps improve the speed and directness of the scheduling process, eliminating frustrations that arise from poor communication. It also gives them a quick and easy way to reach out to you if they have questions about their shift or their work.
Imagine you run an in-home care service and you need to schedule shift nurses on a regular basis. If any nurse has a question or wants to check on their patient's status, how can he or she get in touch? With email and phone calls, questions like these become impractical and not worth it. But when you use SMS for shift work, you can leave the channel open and encourage your team to contact you with questions about their shifts. Not only will they feel less friction in the scheduling process, but they will be better informed of the work they need to do.
You can track employees
When you're employing a team that may be working in the field or not necessarily in front of a computer, you still need a reliable way to track their attendance and make sure your shifts are being filled. By using a two-way text messaging platform to communicate with your shift workers, your team can clock-in via text message and initiate any necessary contact with you just as easily as you can with them. The in-the-field capabilities of SMS make managing shift workers not only more organized but also more transparent — for you and your team.
Want to text your shift workers?
Give Avochato a try for free, and see how SMS works for your team.