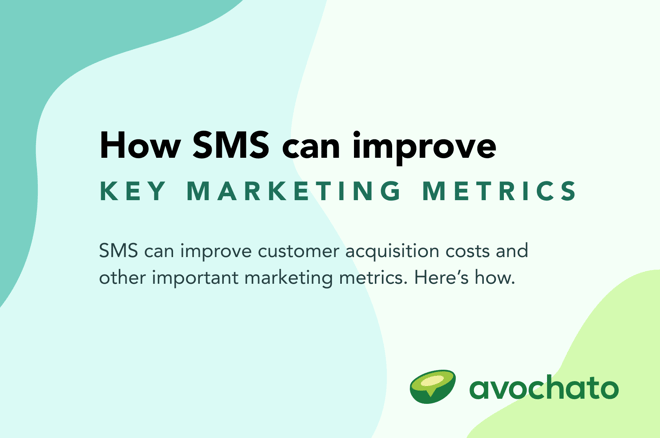 Marketers are always looking for ways to improve the metrics because better numbers mean better business. To improve some of these metrics, you may be considering including text messaging in your marketing strategy. There are a few ways SMS can improve customer acquisition cost and other metrics that can improve your bottom line. Text messaging can enhance significant marketing metrics that bring you more value over time. Here are just a few rates that SMS can help you improve:
Open rate
Click through rate
Conversion rate
Customer acquisition cost
Churn
Customer lifetime value


More opens
Famously, text messages have a near-perfect open rate of 98 percent. That means that texts are better at catching the attention of your leads. But why? There are multiple reasons. First of all, they're easier to spot. Many people have their phones set to receive their text messages by push notification, which is one opportunity for your lead to see that you've messaged them. It's no wonder 90 percent of consumers read their text messages within the first three minutes.
The second reason texts are better at grabbing their attention is actually thanks to the way our phones show us our texts we haven't read yet. An unopened message will often live on a locked screen, which means that even if your lead doesn't open her text from you right away, there's a built-in feature reminding her to do so.
Finally, texts grab and keep the attention of consumers better than other communication channels because of the way we are programmed in today's lighting-quick information era. It's been well documented that adults have an attention span of eight seconds, which, yes, is now less than a goldfish. And it's not because our brains are somehow degenerating, but it's because we're constantly having our heads turned by some new information that's being thrown at us.
On average, your customer will see a grand total of 247 marketing messages today. But the eight seconds that you have your lead's attention is more than enough time to get your message across. By nature, texts are short and to the point, which is why they're one of the best modes of communication marketers can use to improve their marketing metrics.
More engagement
Text messaging has a click-through rate of 19 percent, while email's CTR is 3.2 percent, on average. That's a vast improvement in engagement. Nearly all customers will read your text, roughly a fifth of them will engage with it, and they will do so within the span of a few minutes.
Better conversion rates
Research shows that when marketing teams text their leads, conversion rates shoot up by 100 percent. Overall, SMS marketing has about a 14 percent conversion rate, compared to email's conversion rate, which is less than 4 percent. Even compared to online ads, SMS campaigns convert better, on average. Facebook ads convert at an average rate of 10 percent, and Google ads convert at only 3 percent. Including text messaging in your marketing strategy could be a simple way to increase conversion rates. Retailers that use text marketing to their fullest advantage, with targeted messaging, personalization, time-sensitive promotions and strong CTAs can increase their conversion rate to 23 percent.
Lower customer acquisition costs
Typically, more seasoned businesses with advanced marketing strategies will see a lower Customer acquisition cost (CAC). One of the most critical influences over CAC is the length of the sales cycle. Time plays a significant role in marketing metrics because if you can shorten your sales cycle — that is, the time it takes to turn a lead into a buyer — you can compound those sales and scale them up much faster. A quicker time to sale typically paves the way for more sales, which means more long-term revenue. SMS plays a major role in shortening the sales cycle. Ninety percent of texts are read within the first three minutes of receiving the message, and SMS is an immediate form of communication, which means that when people take action, they tend to do so right away. Faster communication can lead to shorter sales cycles, which can lead to a lower cost of acquisition.
But what happens after your lead becomes a customer? Customer lifetime value and churn have become two of the most critical metrics for marketers. We have discovered that nurturing relationships with existing customers is part of earning recurring revenue. Earning revenue in this way, over and over again from existing customers, enables marketers to plan for retaining customers with high value and nurturing customers who have potential to become high value. For the customer, an LTV approach improves the customer experience since the brand is focused on continuing a loyal relationship through more personalization and targeted marketing strategies.
Reduced churn
Reducing churn is all about communicating well. Make sure your messaging is highly targeted — that you have separated your audience by where they are in the buying cycle — and ensure that the right customer is getting the right message at the right time. Timing and content are the differentiating factors between a message that's exciting to a customer and a message that makes them unsubscribe. Send your appropriately segmented audience the appropriate message and you could reduce churn and maintain strong relationships with existing customers.
Improved LTV (customer lifetime value)
Texts can help improve customer lifetime value because they have unique features other channels don't. For example, it's easy to tell customers about time-sensitive sales and promotions with messages you know will be read in minutes. It's also a great delivery method for loyalty programs. A program that doesn't just reward existing customers but that rewards customers who subscribe to your text messages gives you the power to create exclusivity and a personal touch. All these tactics, done via SMS, drive customer lifetime value since they propel purchase potential with well-targeted messages sent through a means with high engagement and conversion rates.
There are so many ways SMS can improve customer acquisition cost, customer lifetime value, churn and a number of other critical marketing metrics. Implementing SMS marketing well, and with fantastic business text messaging software, helps improve these metrics so you can drive more business.
Learn more about the features that set Avochato apart.
In the meantime, here are some other articles you might like: