In 2020, the need for direct-to-consumer businesses has never been higher with brick and mortar retail and chain stores becoming inaccessible to most of the world.
The direct-to-consumer business model has grown significantly over the last decade due to the rise of e-commerce businesses and that trend is only going to continue to progress .
D2C brands generally differ in their mode of operation. They focus on critical elements of the customer journey that are often overlooked, such as building a customer relationship that large retailers can't typically offer.
However, the real strength of a modern D2C brand is its ability to create unique brand differentiation strong enough to draw customers from traditional competitors.
In this guide, we will focus on the number one medium that offers D2C companies an edge over other brands: Texting.
Texting has become an integral part of many businesses and brands' means of communication.
88% of consumers prefer to receive reminders, order confirmations, and order updates from brands.
Direct to consumer brands have a lot to benefit from texting. This article will identify why texting matters to D2C brands and how they can effectively implement texting into their brand-customer relationship.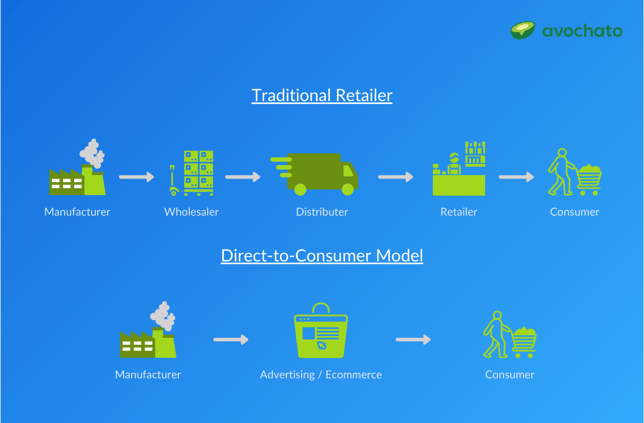 Why Does Texting Matter for D2C Brands?
Imagine having your message read within 90 seconds and your customers actively interacting with you on a one-to-one basis. That's what texting can do for D2C brands.
People want a communication channel where they can connect with a brand and feel heard. According to Harris Interactive, 64% of consumers believe companies who text value their time and are progressive. As a D2C brand, it's essential that you connect and bond with your customers through the medium they love most.
Another compelling reason for using text messages is the high ROI that comes with it. It is a cost-effective channel with very high response rates.
D2C brands are usually digitally native, sometimes having no offline presence. Therefore, after purchase, customers may forget the brand because it can't meet them offline. To avoid this, it is critical to establish an after-sales communication strategy. This is where texting comes in. You can send follow up texts and interesting information about the purchased products that are unique to your customer.
Adding a personal touch to your brand's customer service: SMS is more personal, user-friendly, and open than other communication channels. People feel like they matter when you personalize the way you relate with them.
Because D2C brands are responsible for marketing, packaging, and distributing their products, they need an effective channel to market, promote, and discuss with their customers. The opening rate of a text message is 98%, while that of an email is only 22%.
D2C Businesses can use texting campaigns such as coupons, promotions, and special events, as well as send order confirmations, order updates, and appointment reminders. This is a very convenient way for customers to get these, and convenience sells.
Texting is a perfect customer service platform for D2C Brands. 82% of customers prefer to keep their notifications turned on, drastically improving the open rate of texts vs emails.
The Best Practices of SMS Messaging for D2C Brands
Personalization is crucial
Seek permission first
Be concise.
Provide Value
Make it a Conversation
Texting is the place where you receive messages from friends and family. Messages from a brand will seem out of place if they're too generic or promotional. Personalize your business texts, so your customers will feel that you have them in mind.
You need people's permission before you could come into their inbox. Ethical and legal guidelines state that you should text to people who authorized you to do so. This is known as permission-based marketing, and it's crucial to effective text advertising.
Send clear and concise messages. Be creative, interactive, and brief when sending out any text marketing message. Offer them information that is exclusive and vital.
The fact that a consumer has opted to receive texts from your brand does not automatically mean they'll take everything. The relevance, value, and timeliness of the message are essential. If the recipient sees no real and tangible benefit to the message, they'll see no need to stay connected.
Make it a two-way communication. If you open the door for conversion your customers will feel more valued and connected this way.
The Benefits of Texting for D2C Companies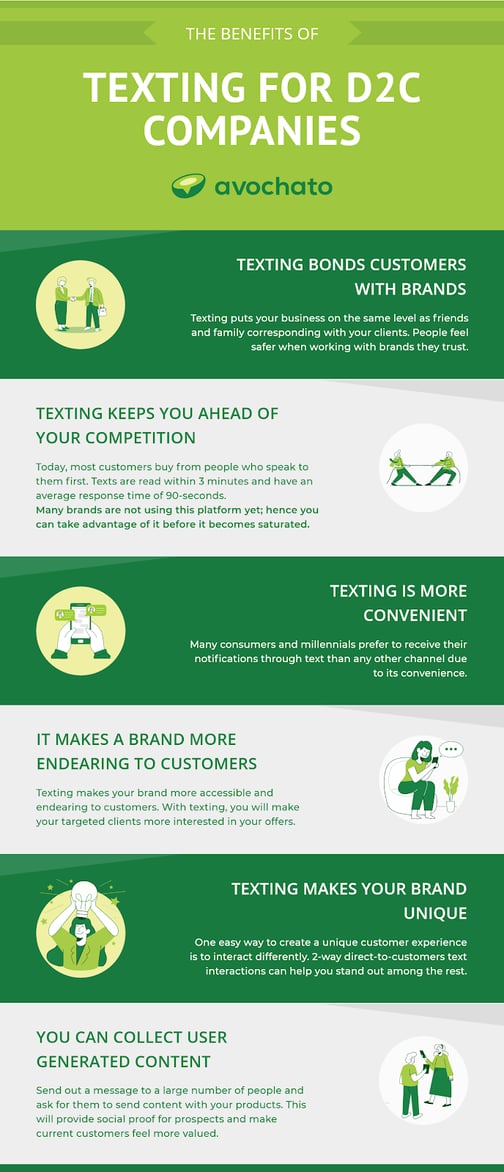 Choosing the Right Text Software For D2C Text Campaigns
Choosing the right text messaging service for your brand is the first step to a lifetime of effective communication.
There are many ways your brand can use texting for business, which again includes campaigns such as coupons, promotions, and special events, as well as sending order confirmations, order updates, and appointment reminders.
To do all these effectively and efficiently to give the brand a maximum ROI through texting, you need to choose the perfect Business Texting Platform, which provides a messaging platform for small and medium businesses with powerful business-level features.
Here are some of the features to look out for a while choosing a business texting app:
Automation technology: look for a platform that uses keywords and tags to automate frequent tasks. This helps you to concentrate on the more important things while the platform handles others.
Use a platform that can seamlessly integrate with your CRM and other apps for efficiency.
Go for software that offers more than ordinary business texting. It should have features like automated reminders, easy keyword reservations, personalization token, and MMS functionality for attaching images and videos.
Look for a platform that will provide you with data and powerful administration and management tools to ensure that your campaigns are effective and generate the best possible investment return.
Be on the lookout for software that has a good customer service reputation. This is your go-to if there's any mishap; hence, you don't want to deal with unresponsive customer service.
Your provider must have a contextual solution. This means that the platform listens to and learns from customer interactions, so you can interact with customers in the same way that they generally send messages to friends and family.
Our platform offers all these and even more. Avochato is the ideal platform when it comes to texting services for D2C Brands. With loads of effective features, including intricate data-analysis tools, Avochato takes text message marketing to the next level.
Text Message Management: Send SMS/MMS to thousands of customers or clients through broadcast messages. Create, modify, edit, and delete messages to match your tone.
Third-Party Integration: Easily integrate tons of outside apps and services to maximize the power of texting for business.
Automation: Avochato uses keyword data and surveys to send automated responses to frequently asked questions to customers.
Web and mobile apps: Avochato works seamlessly on Android and iOS devices, and all web browsers.
Mass Texting for Business: Send personalized, custom-tailored texts to your entire target audience using localized phone numbers.
Security: Focuses heavily on the security and privacy of all the users of the platform.
How Cann Improved Its Customer Service Through Avochato Messaging Platform
For Cann, the first cannabis-infused social tonic, interacting with their fans was part of the mission from day one.
With most advertising channels out of the question due to strict cannabis regulation, Cann has had to rely on organic channels like word-of-mouth to spread the joy of Lemon Lavender or Grapefruit Rosemary, two of their most popular flavors.
Luke was then introduced to Avochato and intrigued by their mission to help businesses "Promote Dialogue" with their customers.
Using the Avochato platform, Cann was able to improve its customer service and relationships. Now, 50% of their customers are using text messages for inquiries.
"Avochato was incredibly easy to set up and exactly what we were looking for to connect with our customers. If you're trying to get social with your customers give Avochato a try! Maybe have a Cann afterward too!"

- Luke Anderson, Co-founder, Cann
We have seen why texting matters a lot to your D2C business, how it offers you an edge over competitors, and the best practices for text marketing for your brand.
It's time to follow the details in the article to get started on texting to build brand uniqueness and value, maximize engagement and boost your revenue.
We are here to help you get started and lead you through this journey. If you'd like to learn more about business texting for D2C brands, don't hesitate to get in touch with us through the form below.
Read More:
_________________________________________________