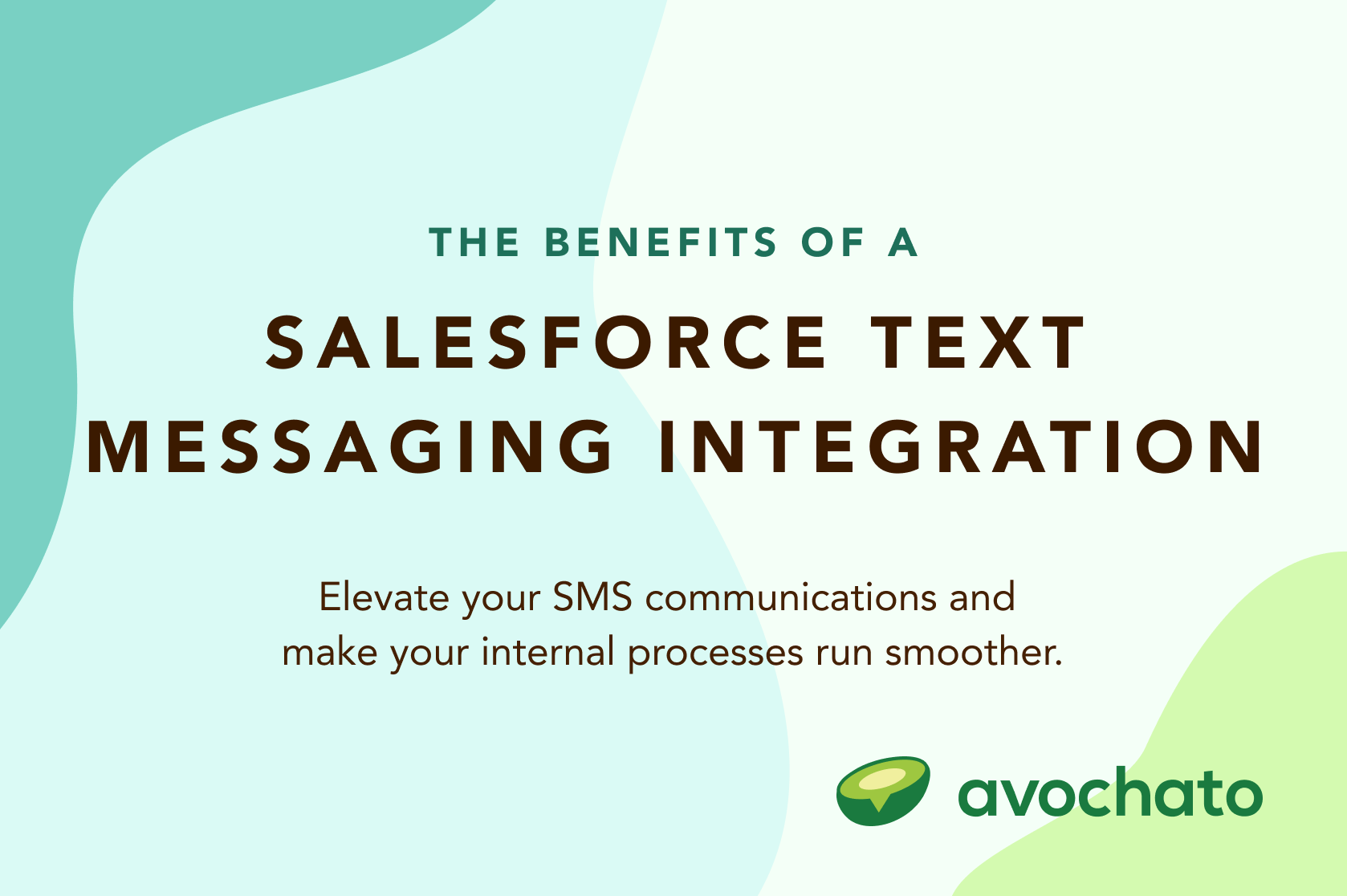 Adding text messaging to your suite of communication tools is the next step for many companies in 2021. (In fact, half of the top 1,000 online retailers are texting their customers already.)
But starting to text your audience and allowing them to text and live chat with your business means reorganizing your contacts and implementing yet another system your team has to manage.
Except, what if that system slipped right into the processes you already use? What if you could simply go about your day — only, now using a channel that is almost guaranteed to engage your audience more — and reap the benefits without the headache?
That's what a Salesforce text message integration can do: elevate your SMS communications and make your internal processes run smoother.
With a high level of configuration, a native Salesforce text message integration worth its salt should fit your needs, the needs of your team and the needs of your customers. An integration that's not native or doesn't have intuitive interactions with the CMS won't be as convenient and easy for your team to manage. Nor will it make for seamless, well-delivered customer communications either.
Here are some of the everyday benefits of a well-oiled native Salesforce text message integration:
Salesforce SMS integration is personal
Personalization — especially that uses the full range of purchase history, preferences and attributes — improves customer retention. That's because customers are twice as likely to see personalized offers as important over offers that aren't personalized. A text messaging solution that integrates with Salesforce helps you keep your existing customers around by tapping into the most engaging communication channel available to businesses and personalizing the experience.
You can personalize your texts using purchase and preference history, which are catalogued inside Salesforce. So, not only can your text messaging touchpoints inform Salesforce, the CRM can actually make your messages stronger.
For example, if you want to run a campaign targeting everyone who recently purchased your blue kazoo, you can craft your automated message, plug in the personalized field and explain that, for a limited time, they can get a matching red kazoo for half the price — all inside Salesforce.
Salesforce SMS integration is convenient
Imagine if you could text your customers from within Salesforce, with all their attributes segmented and automated to fit your specific needs. The beauty of a native Salesforce text message integration is the ability to work within one platform for everything. Your team can access, manage and send texts directly within Salesforce through the text messaging tab or with the embedded component on any record page.
This means you can send a one-to-one text through a single record page and you can send broadcast texts to larger segments of your audience through the text messaging tab within Salesforce.
The one-stop convenience of native Salesforce text message integration is unparalleled. It certainly beats sending one message at a time from your own phone.
Salesforce SMS integration is transparent
You want that complete view, the full picture, of every contact you have in Salesforce. This is important so your sales, marketing, and customer service teams can all be aligned on customer communications. Every interaction should be recorded in one place.
If every customer touchpoint is recorded in Salesforce, your text messaging, live chat, and phone calls should be no different. This is critical for anyone working with a contact. Still, it's especially important for customer service and support teams who need to know as much as there is to know about each contact to deliver a pleasant, seamless customer experience.
Salesforce SMS integration is synced
When your text messaging is integrated natively with Salesforce, your data will always be in sync.
Imagine someone comes to your site and reaches out via your live chat widget. If they're a customer or contact, their new or updated data will sync directly with their existing Salesforce record, or if they're not already a contact, a new record will be created for them.
This is the ideal back-end operation for a chat widget since you want to automatically capture as much contact information as possible with seamless integration. And you want that information to be synced with other info you might have on your contacts.
A robust Salesforce text message integration means you can easily and immediately track all your SMS, live chat, and phone conversations in one place and have all that information logged into Salesforce.
Want to learn some of the features of Avochato's highly configurable Salesforce SMS integration? Watch this 6-minute video review created by Salesforce Ben:
It's time to get texting. Try Avochato for free.
Read More: