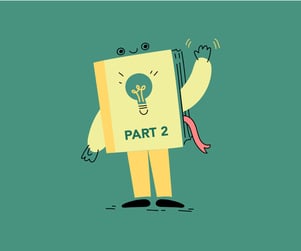 This post is a piece of our 2-part guide that covers:
How to use SMS for Customer Support
Today we'll dive into some ways you can make customer support more efficient. We'll also review some basic templates CS teams can use to make the customer experience better while decreasing the amount of time spent crafting individual messages and go through some of the numbers that matter to a CS team when using SMS.
Make CS more efficient
Use a shared inbox
Text messaging software is one of the keys to improving the efficiency of customer support. It enables teams to use a shared inbox that centralized incoming messages and routes those messages to the best possible (or most available) agent.
Like a help desk, a shared inbox helps unify customer information for further organization. A shared inbox deals with incoming messages from customers and can route those messages to the appropriate agent or department, depending on the nature of the query.
Using a shared inbox allows your CS team to move inquiries to available and qualified agents quickly and effectively, enhancing the efficiency of your responses. The best agent or department can respond first, saving the customer time and hassle and freeing your other agents up to focus on their strengths.
Automate
It's great to have certain text messages on hand that your team can send out without having to craft individual messages for every lead, saving them time and hassle. The right SMS software will provide you with the chance to create templates and automate text messages. The right messages will then go out to the right people at the exact right time.
Here are some examples of text message templates your team can tie to certain actions to make customer support outreach more efficient:
The opt-in confirmation
When a new lead opts into your text messaging communications channel, that's great news! Your marketing team has done their job. Between the two departments, someone should organize an automated template to send whenever this happens.
Not only is this good customer support—giving the customer another reminder that you're a friendly, approachable brand—but it's also good practice for legal reasons. A double opt-in is the best way to ensure your leads are actively willing to communicate with your business via SMS.
Here's a quick example:
Hi [first name], we're so excited you subscribed to get exclusive SMS deals and news from Astronaut Socks! 🌖🧦 Text Y to confirm your subscription and STOP to cancel.
The order update
Why not keep customers in the light when it comes to their online orders? It's important for customer support to help the business maintain a pain-free customer experience, and fear over where an order has ended up or when it might ship can cause undo frustration.
If your team has the right SMS software to automate order updates and send them to waiting customers, you should create a template to make sure they're sent. It's a fantastic way to preempt frustrated calls and questions about orders and make the order process as smooth as possible.
Here's a quick example of an order update template:
Hi [first name], just a quick message to let you know your order [order number] is being processed and will ship within two business days. Thanks!
The survey request
You've finished a conversation with a customer, and you want to get their feedback on how the chat went. This helps with your CSAT score and your overall understanding of the performance of your customer support. Great! If you're chatting with customers via text message, it only makes sense to send them an SMS at the end of your conversation to encourage them to fill out your survey.
And, even if your conversation happened over the phone, you can still use SMS to get a better chance of a response. (Remember, text messages have an average response rate of 45 percent.)
Here's an example of a survey request template you can prepare for your team and automatically send once a CS conversation has been closed:
We enjoyed speaking with you today! We'd love to have your feedback if you have time to fill out this 2-minute survey: astronautsocks.com/survey
The after hours reply
Small businesses that can't staff their customer support desk 24/7 can rely on a simple way to remind customers to text back during business hours should they catch you after you're closed.
It's an easy to understand concept, but having an automated response that a customer receives can make a huge difference. If you don't have this automated message, you may look like you're not giving the customer the care they're expecting. It's not just courteous, but can also save you business.
Here's an example of an after-hours reply you can automate:
Thanks for sending us a message! Astronaut Socks is open from 9am to 6pm EST, and we look forward to getting back to you with a response during business hours.
The key to all these messages is automation. Make sure you set the right automations in your SMS software for the best results.
Measure the right numbers
Metrics matter when it comes to CS performance. There are some numbers that matter more than others when a business decides to include SMS in their customer support channels. Here are some of the critical metrics you should be measuring:
Cost per contact
Cost per contact (CPC) is a traditional call center KPI that has significant applications in customer support when you're using SMS.
How?
It can show you how much of your budget is used to manage one contact. With increased efficiency from more chats managed at once and faster resolution speed thanks to more convenient customer communications, cost per contact is likely to go down when teams move to SMS.
This metric can help customer support teams make the case for more efficiency—the lower the CPC, the more efficient your team is—and reduce per customer spend to make room for other ways to improve the customer experience.
Not only can CS teams see more efficiency when they switch to SMS, but they could see even stronger CPC numbers with the right SMS software.
NPS and CSAT
Customer satisfaction (CSAT) and your Net Promoter Score (NPS) should always be measured by CS teams looking to see how they're performing.
One way to measure the success of your SMS customer support is to look at these numbers, particularly CSAT, before and after you implement SMS to see the overall customer response.
Through customer satisfaction surveys (see our sample template in the previous section), you should be able to see how well your text messaging channel is powering the customer support approach. When customer satisfaction increases, your NPS is likely to see a boost as well since more customers will be happier with their experience and more likely to recommend your brand to someone they know.
Agent response time
If your customer support team's objective is to increase the speed of their response time through SMS, you should be measuring agent response time. Metrics like average handle time are great for phone calls but don't work well for SMS. They can be longer for SMS conversations simply because it can take customers longer to respond via text message.
Numbers like these won't reflect the success of a CS team's success as well as response time, so bear that in mind when determining the right metrics for your CS team.
Response time is typically a target for most call centers already, but paying close attention to them will help you see the impact SMS has. It can give you an idea of how your SMS channel is performing against other channels.
Number of chats
Because of the nature of SMS, agents can connect with more people at once and resolve more issues simultaneously. Some agents can manage up to 10 customers at once using SMS.
Compare this number to the one-at-a-time approach you get from phone calls, and you can quite clearly see the increase in efficiency from SMS.
To see this efficiency in action, you can measure the number of chats your team has—per agent, per day, per week—and you'll likely find that the number of customers managed increases by a large margin.
What does this tell you?
It tells you that your customers are getting faster service, and your agents are getting more wins every day.


Dedicate a single number
If you can believe it, one third of consumers have sent a text to a business at some point, only to be ghosted.
It's critical to be available to customers with a consistent phone number when receiving texts. This means the number you advertise on your website, on Google, on your print ads—it all needs to be the same number associated with your business. Consistency is key to avoiding confusion on the part of the consumer. If they're confused about how to contact you or the number they find online isn't one that receives text messages, you could be missing valuable business. (If the stats are correct, it means you could be missing out on a third of customers trying to reach out, which is not a small number.)
Simply making the number you put out there consistent could be an easy way to make the customer experience seamless.
A dedicated business number also helps your number to be considered trustworthy. Eight out of ten consumers say they don't answer calls from numbers they don't recognize. If your number is consistent and associated with your business, you have a better chance of gaining the customer's trust.
So how does it work on the back end?
If you have more than one customer support rep, or you want multiple people on your team to manage text messages from customers, you can do so with the right SMS software.
Software designed for businesses communicating with customers via text message can help you send and receive text messages from a single centralized platform. It will route incoming messages to the first available or best suited customer support rep (depending on the preferences you set).
With this back-end efficiency, customers don't have to wait for a response and conversations are spread evenly among appropriate team members.
It's a win-win.
Take a multi-channel approach
As effective as SMS is, customer support today can't be on one single channel. With all the different ways people like to communicate (and a cultural preference for convenience), it's best to be available in multiple ways.
Some online situations call for live chat, while phone calls have their time and place. Though you might have a particular channel that works best for the majority of your customers, customer preferences are not homogenous, and neither should your customer support channels.
A robust CS organization integrates SMS, phone calls, and live chat to remain available no matter how the customer wants to reach out or how they prefer to communicate.
In this sense, SMS is only a part of a greater suite of tools to improve the customer experience. It's essential to choose an SMS software that integrates these three ways of communicating so there are no seams, no hiccups, no frustrations to get in the way of a delightful customer experience.
Live chat, for example, is a perfect way to catch users who try to reach you via your website. When the customer goes to your site for help, they need a place to reach out to you quickly and easily, even there. If you have a live chat widget, they can send a chat to your agents' shared inbox and the conversation can begin and end via live chat.
However, if the issue is more complex and the CS agent needs a bit more time to troubleshoot, transferring the conversation to text message at a later time is possible with an integrated SMS-live chat feature. The agent can easily have the customer text back later or can follow up via SMS once they've worked through the issue more fully.