We here at Avochato are really excited about our new Campaign feature. There are a number of ways you can pair Campaigns with other features within Avochato. This is not a comprehensive list but the below suggestions should give you some ideas to get started. If you would like to learn how to create a Campaign message, visit this article here.
Broadcasts
Launch a Campaign to an audience of your choice by pairing Campaigns with Broadcasting. This will allow you to automate a follow up message at a time delay at scale. To set it up, add the Campaign shortcut in the message body (Compose Your Message).
Broadcasting with Campaigns could be useful when you have a big event and want to send a few reminder text messages to your attendees. Or you may have customers who have subscribed to your loyalty program and receive regular text message promotions on a time schedule.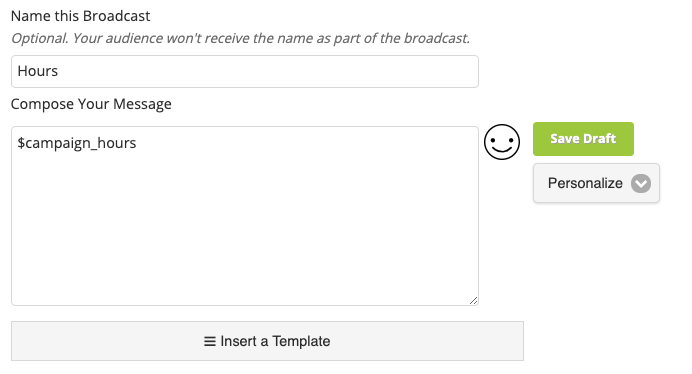 Keywords
You can also embed a Campaign into a Keyword Auto Response. When someone texts you that given Keyword, your Campaign will be launched. To set it up, add the Campaign shortcut in the message body (...Auto Reply with). Keywords with Campaigns will be effective for seasonal promotions and other loyalty programs. Configure Keywords at Settings > Keywords.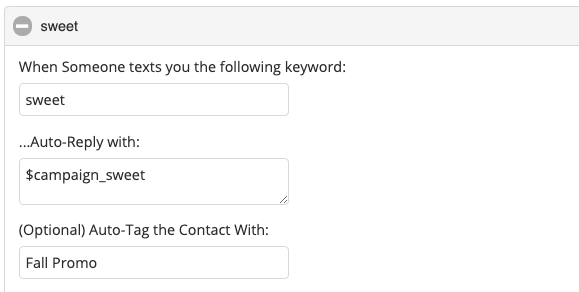 Direct Messages
Campaigns can also be sent to contacts in a one-to-one fashion. Copy and paste the shortcut link into the message body and send or schedule send as required.
You can also search for Campaigns within the Templates selector.

Auto Responses
Campaigns can also be added to Auto Responses. The Campaign shortcut needs to be copied into the message body for that given Auto Response. Navigate to Settings > Auto Responses to set up. One popular use for Campaigns can be with Out of Office Auto Responses. For example, you can schedule the campaign to send a follow up message during normal business hours to make sure no one falls through the cracks.
These are just some of the use cases we have come up with. How are you going to use Campaigns within your business?