We're introducing a new feature to make it easier for large teams to manage the way that new conversations are assigned to different team members.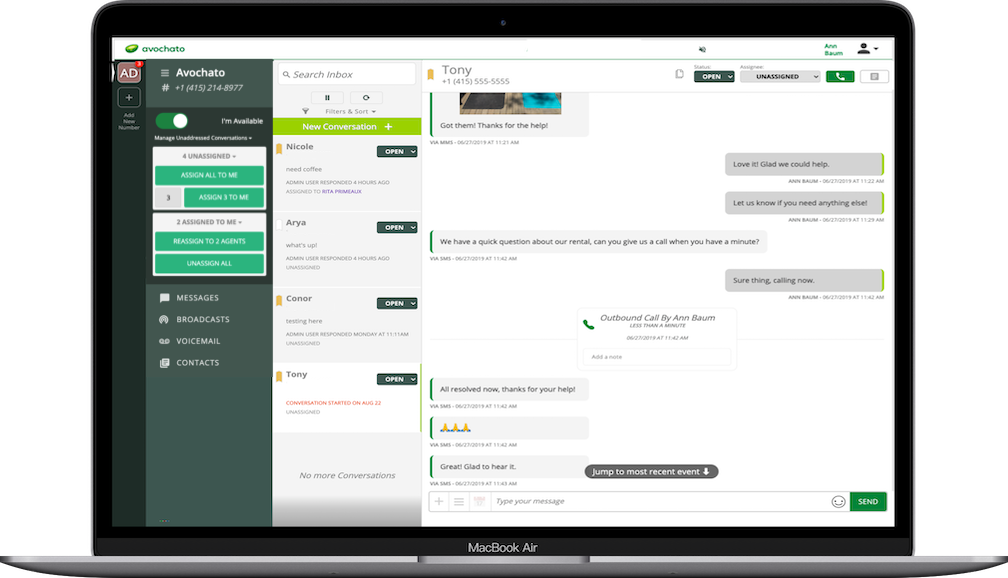 You might already be familiar with the assignment roster, which you can always modify by going to Settings > Auto Assignment. Auto Assignment will automatically assign each new conversation to a member of the roster, cycling through each user as new conversations come in.
For every member of your team who is part of the assignment roster, the same assignment toggle from the Settings menu will be accessible on their main Avochato dashboard. When that toggle is on, the user is available. This means that the user will receive new, incoming conversations. When the toggle is off, the user is unavailable and will not be assigned any new conversations.

Any new messages that come into a conversation that is already assigned to a user will stay assigned to that same user, regardless of whether the user is available or not.
We've also added some ways to make it easier to manage conversations that are unassigned, or are assigned to you. We'll show you the count of all unaddressed conversations that are assigned to you, and how many are unaddressed and unassigned. You can easily redistribute your conversations to other active team members, or you can pick up unassigned conversations and assign them to yourself.
These changes will not let you reassign someone else's conversation. You can only pick up conversations that are unassigned, or choose to reassign your own conversations.
As always, please let us know if you have any questions or feedback.