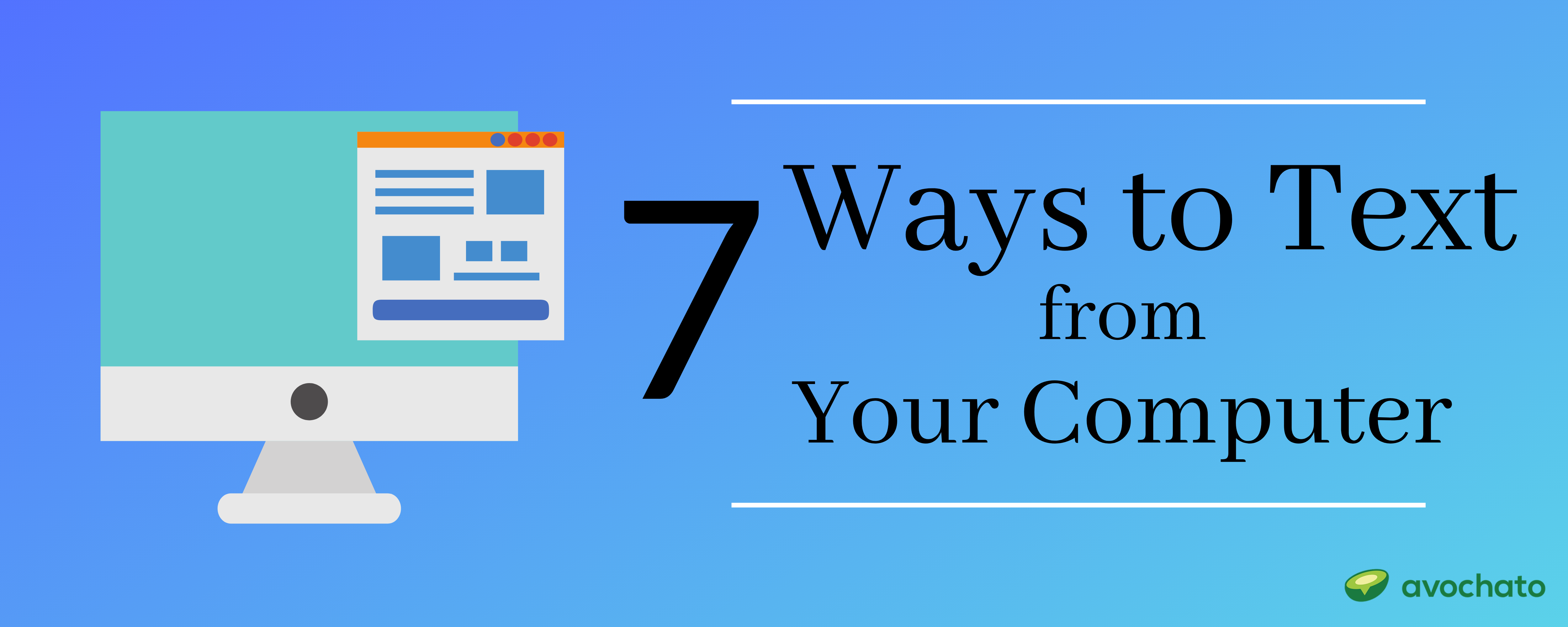 If you are looking to write something meaningful, which keyboard would you prefer to use: the one on your smartphone or the one on your computer? Most people would normally choose to write on the larger computer keyboard over the tiny smartphone one.
In this article, we will discuss the 7 different options you can use to text from your computer and how you can optimize your texting strategy to make it easier on yourself and your team.
7 Different Methods to Send a Text Message from Computer/Laptop
1. Sending Texts through Google Voice
Using a Google Voice number, you can easily send text messages from your computer for free to all US and Canadian phone numbers.
Google voice requires you to create an account and will assign you a number. Once you have your account, you can easily send text messages to your customers through the platform.
Google Voice also allows you to create text groups of up to 8 participants (including the person who is sending the message).
2. Sending Text Messages via Email
Sending texts through your email provider is very simple, as long as you have the carrier email addresses to attach to your contact numbers. All you have to do is create an email as you usually would, and have the recipient be the contact phone number + the carrier email address.
Example- 1235552197@Vtext.com
If the customer replies, the reply will enter your inbox as a new email.
3. Sending Text via Business Texting Software
Using a texting platform is the easiest and best way to text from your computer to individual customers and large groups.
Avochato's software can set up toll-free numbers, 10-digit landlines, industry short codes and more for your business quickly and easily.
Once set up, you can communicate with your customers to help with customer service, recruiting, sales, purchase updates and more.
Our platform allows you to send and receive messages easily on your computer; it will enable you to set up campaigns and give you access to text messaging templates that are proven to work.
4. Sending Texts via iMessage
Apple's operating system allows you to have all of your SMS messages forwarded directly to your Mac, as long as you have a later version of iOS that supports it.
Once you are correctly set up, you will be able to access your messaging app directly on your computer and send and receive messages the way you would on your phone.
For billing purposes, if you are sending to users who are on iOS messaging is free, but if you are sending to customers not using iOS standard billing/ SMS restrictions will apply.
5. Sending Texts via Android Message
This option works very similar to texting from iOS but is excellent for Android users. All you need to get set up is the Android Messages browser extension, and you can text through your web browser.
The Android Messages can be used on any computer, even a Mac. Once you have the extension installed and ensure you have your default messaging set for Android Messages, you can start messaging customers as you would from your phone.
6. Texting through Your Wireless Carrier's Website
Depending on which wireless provider you use, you can message your customers through your carrier's website.
If you have Verizon or AT&T, you can log into your account and message your customers through a dashboard on their website. Verizon users can download a desktop application for their computers through My Verizon as well.
7. Sending SMS using Windows App
Microsoft created the MYSMS app to help people sync their phones and their computer to send and receive messages from their laptops and desktops easily.
Similar to the above, the MYSMS app allows you to manage all of your text communication from an app on your computer. The only difference from the Android Messages app and the iMessage sync is that you have to download the MYSMS app on both your smartphone and your computer to allow them to sync with each other.
Advantages of Texting Using Avochato
Texting from your computer is an easy way to stay in contact with your customers and provides you with a standard keyboard to type on. Listed above are different ways you can text on your computer, but most of them have limitations.
Below are examples of things that you can do using the Avochato text software that you cannot do using other methods above.
Provide Delivery Updates and Analytics
Because many of the above solutions are not built for texting for business, you cannot get any delivery updates or analytics that are helpful for your team.
Avochato's platform allows you to see engagement rates, agent availability, response and queue times, and much more to help you get the most out of your messages.
Ability to Automate Messages
The above text from computer solutions are much more manual options, so they do not allow you to automate any messages for your customers.
Avochato allows you to set triggers for automatic replies, create templates that can be scheduled and sent and more options that allow you to easily get in touch with your customers at the right time in their customer journey.
Messages Delivered from an Actual Phone Number
When you send text messages through your email provider, the texts will come through to your customer from an email address rather than a phone number.
Working through our texting platform, you can set up toll-free numbers, 10-digit landlines, industry short codes, and more so that your customers know the text is coming from you personally and does not confuse them with email addresses sending them messages to their phones.
Send Large Text Blasts
The above options (besides texting software) are a much more individualized option for texting. Avochato's texting platform allows you to easily message your entire distribution list without the usual recipient limitations.
Start Texting For Free with Avochato
Texting from your computer directly to your customers gives you the ease of using your standard keyboards and monitors, while still offering the customer the personalized touch of a text message.
As you can see above, there are many ways to text through a computer, but the best way is by using the Avochato texting platform. If you would like to learn more, reach out today or start your very own free trial!