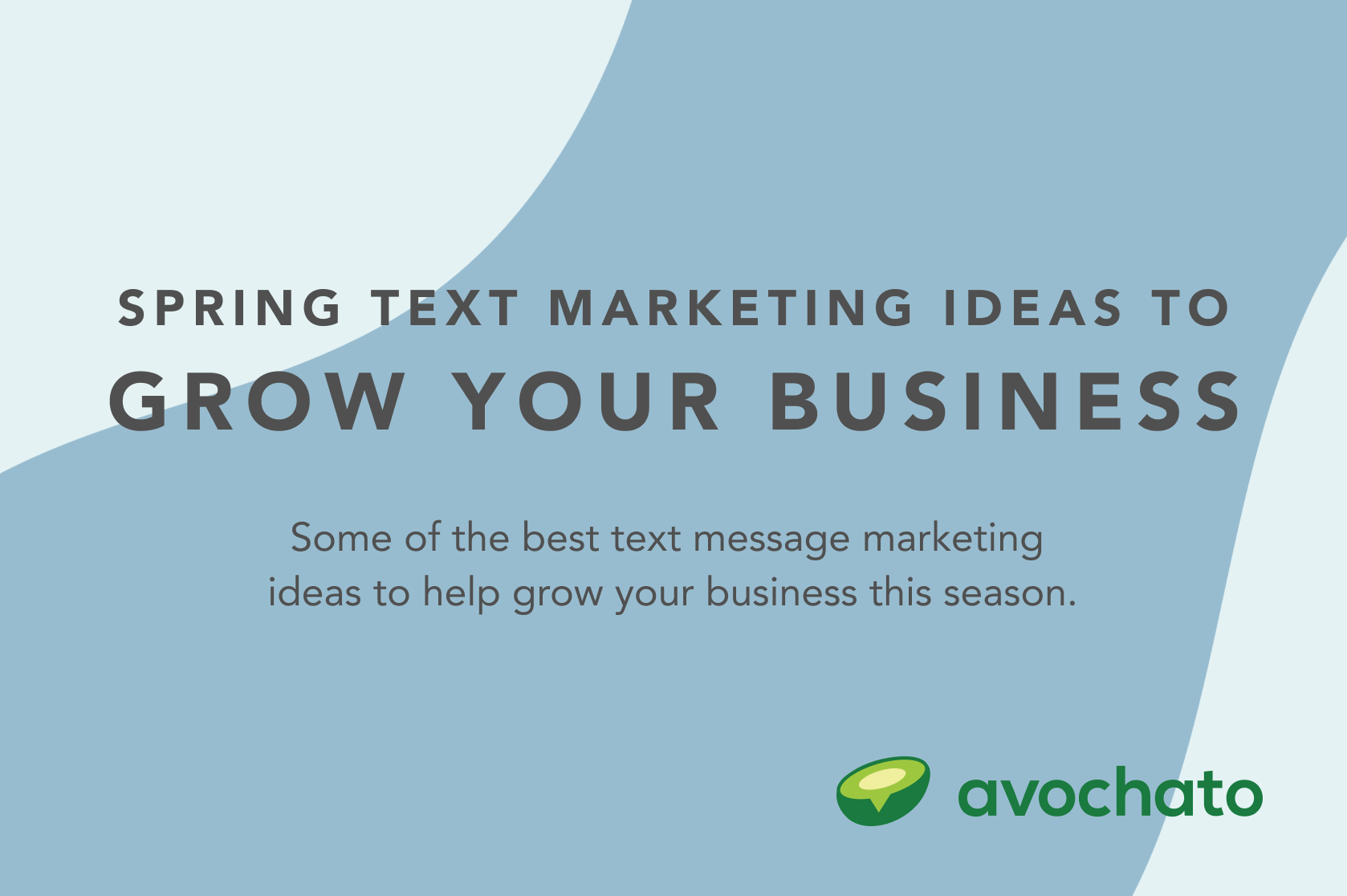 A new season has arrived, and businesses that use SMS to get in touch with their customers are well equipped to tap into seasonal marketing.
Here are some of the best text message marketing ideas to help grow your business this season. Some concepts are customer facing and others are behind the scenes, but all help you put your best foot forward with customers.
Spring is the best time for a clean
Marketing isn't just outbound efforts. It requires internal work to make sure your internal system is clean and functioning well. Just as you would use this time to spring clean your house, you can clean up your contact list.
If you're not already removing hard bounces from your list, you should start. A hard bounce is a permanent issue with your text message delivery and it happens when a phone number is incorrect or someone has blocked your number.
For customers that are receiving your text messages but are just not taking action, you may need to think about the quality of the content you're sending. Ask yourself if your text messages are delivering value to every person who receives them (they should!), and ask whether your messages are relevant.
Sometimes disengaged contacts are not interested in your texts because you're not targeting them specifically enough or speaking directly to them. Once you've taken a good look at your text message content, consider a re-engagement campaign to see if you can't get disengaged contacts to come around.
Find the right conversation
When it comes to SMS marketing this spring, as always, make sure your campaigns are highly targeted and hyper relevant to your customers. Customer communications done via text message are most effective when they're aimed at starting or continuing a conversation. To optimize the channel, two-way, conversational messages that offer targeted value to your customers are best.
This time of year is about new beginnings and fresh starts. If you haven't been segmenting your SMS audience for your marketing communications, now is the time. Draw up some campaigns that are centered around the idea of a back and forth with customers, and conversations that will engage them. These are the types of texts customers want because they bring the most value to everyone.
Use the season as a launchpad
Spring marks the end of winter, of course. But it's also a time when people stretch their legs, go outside, plan their summer, enjoy warmer weather, gather with friends and family. Can you think of ways your product or content can bring communities together? (Safely, of course.) Or maybe you can build campaigns around getting outside? Use the seasonal benefits — what your customers are going to be thinking about and doing this spring — to create two-way text messaging campaigns that resonate.
This can take many different forms. Maybe you ask customers to send you pictures of themselves with your product outside somewhere, or perhaps you could send a springtime (on-brand) playlist to your customers. Your concepts will be unique to your business, of course, but the idea is that your campaigns match the hopeful springtime vibe most of your customers will be feeling this year.
Plan holiday campaigns
There are a few dates on the calendar during the spring that are worth noting. In fact, they're probably already on your marketing calendar for your email or social communications. But it would be worth adding them to your text message marketing calendar, too.
May 4: Star Wars Day (aka, May the 4th be with you)
This is a punny day marketers can use to break out all their sci-fi, spacey themed campaigns. It's a great day to reach out to customers with well-targeted, value-add text messages.
May 9: Mother's Day
For businesses in some industries, campaigns designed around Mother's Day are a no-brainer, but marketers of all businesses can reach out to their customers on this day. It's a terrific time to offer special deals, celebrate mothers in general or show your advocacy or support for important mom-impacting causes (especially since many consumers want brands to be community builders and stand for something that matters).
May 31: Memorial Day
Campaigns centered around this American holiday could be tied to honoring veterans, acknowledging the unofficial marker of summer. However your text messages are crafted, this is the perfect opportunity to reach out to your segmented contact list with a well-timed text.
Here are some other articles that might interest you:
What you need to know about opt-in text messaging
3 steps to compliant SMS marketing campaigns (with examples)
How to create an unforgettable brand experience