Last week, Salesforce announced the acquisition of Slack. According to Salesforce CEO Marc Benioff, "this is a match made in heaven. Together, Salesforce and Slack will shape the future of enterprise software and transform the way everyone works in the all-digital, work-from-anywhere world."
There's no doubt that bringing the power of Salesforce and Slack together has the potential to really change the way work gets done, especially with so many companies transitioning to a remote model. A big part of the transformation that Benioff and team hope to fuel will happen in the business communications space: a deeper Slack integration into every Salesforce Cloud can significantly improve how teams of all sizes communicate, collaborate, and make decisions.
At Avochato, we're also big believers in the power of good and effective communication - between individuals, companies, partners, and customers. We are on a mission to promote dialogue, and working hard to build the next generation of business communication tools. We're excited to see Salesforce and Slack join forces to empower better communication and collaboration, as these are absolutely necessary to deliver smoother, more connected customer experiences - which, at the end of the day, is what every brand strives for.
Many of our customers are already using Avochato together with Salesforce and Slack. Today, companies can already integrate our text messaging solution to manage two-way text conversations with customers directly from both Salesforce and Slack: no need to disrupt existing workflows, and all messaging activity is kept in sync in every system.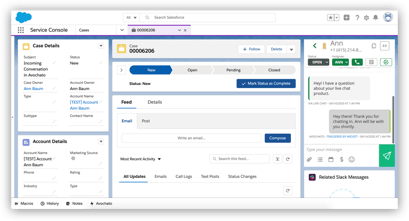 As Salesforce and Slack become even more deeply connected, the experience we provide to our customers can only get better. We're thrilled to be building the future of business communications in such great company.