Sarah Hoffman and Kendra Kawala founded Maker Wine with the idea of making great wine more approachable.

"We really want to position ourselves as a tech-forward wine company in an industry that's more traditional," Hoffman said.
For many wine buyers, choosing and purchasing wine can be a stressful undertaking, as they navigate intimidating questions of taste and select among numerous varietals.
Part of Maker's strategy has been to develop highly personal connections with their customers, many of whom are are "Can Club" members. Club members receive regular shipments of wine from Maker.

When new wines become available outside of regular shipments, however, Hoffman will sometimes send custom notes to members based on their preferences.
"I sent twenty texts in an hour and got fifteen orders from those texts," Hoffman said.
The customers love the personal touch, and often comment on the "great service" that Maker provides over text.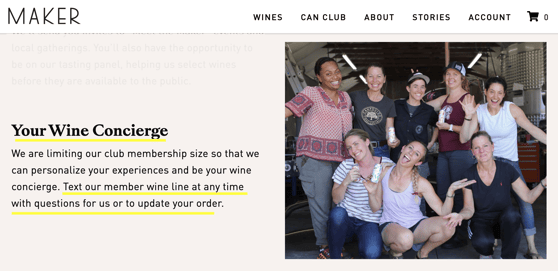 Wine buying is a highly regulated and notoriously complex process. By providing high-touch service at scale, Maker differentiates themselves while incentivizing repeat customers.
Maker also touts their "Wine Concierge" service as a perk of their can club.
As the wine club grows in scale, Maker has already begun exploring ways that automation can make their processes more efficient. Integrating with their point of sale service, for example, will allow them to initiate "Welcome" text messages whenever new members join the club.
Avochato's platform, however, will help Maker continue to provide the same personal touch that has built trust among their customers. Features such as contact tags allow Maker to easily categorize different customers and note preferences accordingly.
Additionally, as the company expands into digital wine tastings and other services, they're also exploring new ways to integrate texting to reach new customers and engage with them about wine.