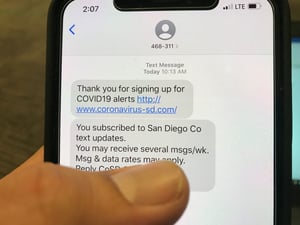 With well over a million, and possibly millions of more positive cases across the world, Coronavirus (or COVID-19) has become the focal point of our lives, compelling people across the globe to stay in isolation. We know that some people are struggling with their health, but for those that are fortunate enough to be healthy and trying to maintain the health of their business, we believe text messaging can help build stronger relationships.
The COVID pandemic has people working from home and spending more time on their phones, changing the way business is done for the time being and possibly forever.
Consequently, businesses have started making changes to their marketing strategies. A lot of small businesses are leveraging the power of text marketing to attract and create meaningful relationships with customers. And why not? It's budget-friendly and effective.
Let's find out how to incorporate text messages into your marketing plan in the right way during this hard time.
Why text marketing is useful during this global emergency
Now, more than ever, it is important to stay connected with your community. SMS offers the perfect channel to do so since people are so comfortable with the technology and are almost guaranteed to open and read your message. SMS text messages are opened 98% of the time compared to 20% for emails according to Gartner reports.


Since businesses are unable to utilize their resources to the fullest to market their service, sending text messages can be an ideal advertising method. You don't need to spend hours designing a text message marketing campaign. So, even if you don't have sufficient staff, your team can be effective and efficient.


Almost everyone has a phone, and text marketing gives your business direct access to customers' mobile devices through messaging. With text marketing, the barriers are low since your customers won't need to download a new app or learn a new interface. This approach is best for people who are potentially unwilling to interact with traditional forms of marketing or new apps under these stressful times.
Things you can send during COVID-19 epidemic to support your customers
As it is a tough time for everyone, you must communicate with empathy.
Ask your clients about their present situation within a short message. You can send them wishes for their well-being and strengthen the bond you have with your customers by letting them know you care.


Provide detailed information on how your regular service may be affected and what they can do to reach you during this period. It is important for your customers to know that you are still available to help.


Let them know what steps you're taking to deal with the situation both internally and to ensure their service remains unchanged.


As everyone is under stress due to the COVID-19 outbreak, avoid sending an unnecessary or humorous text to try to lighten the mood.
Promote your valuable product or service with a discount or offer
While social distancing is good for public health during this virus outbreak, it complicates the marketing strategy for small businesses.
Businesses in every industry are finding it difficult to connect with their customers. Fortunately, there are a few ways you can promote your products and services even in this tough time.
Give your customers discounts or reduce the price of your product or service during this pandemic. Not only will it boost your reputation but it may increase sales in the months to come.


Consider offering e-gift cards to attract existing as well as prospective customers. You can use text marketing to inform your customers about your discounts as this affordable marketing method won't break your bank during this crucial period.


If you have a physical stockpile, discounting items will also help you turn over inventory. You can even consider offering products for free or donating them to people in need.
Things to consider when text marketing during COVID-19
Again, during this crisis, you must interact sensitively with your customers.
Here are some tips for text marketing.
Don't be too promotional. Instead, try to help your customers as much as possible. Don't forget; people like to buy from a business that genuinely cares. You can add educational content in your text messages to help your customers understand the situation.


Send short yet informational messages. It shouldn't include any bad news.


Do tailor your language as per the situation. Take the crisis seriously. Make sure you keep in mind the impact COVID-19 has had on the world. You don't know the full effect this virus has had on the lives of your customers and their families, and you should be sensitive to this. Use a serious tone in messages, even if that is not the usual voice of your company.


Since your audience expects to hear from you, don't wait to communicate crucial information during this period. Remember, waiting too long may harm your brand's image and also upset or stress your audience.


If your products or services are in high demand, don't take advantage of the situation. Remember that the customer's needs should always come first.


Do not send promotional messages right away. Try to engage your audience or customers on a personal level before sending them any promotional message.
Conclusion


Text marketing can be a powerful tool to engage your customers and fulfill your marketing goals during these difficult times. As COVID-19 is making a significant impact on the global economy, small businesses can leverage this pocket-friendly marketing method to improve the visibility of their business in the market.
It is not just affordable but also mobile-friendly. Don't forget, people in different geographical locations are in quarantine due to the burst of coronavirus; therefore, they are more likely to use their phones. So, you can expect to get a higher open rate on your messages to customers.
If you're in search of a robust text messaging platform for your team that can help your business reach its customer base during this tough time, consider trying Avochato. We offer a free trial, so sign up today and see how it works for you.