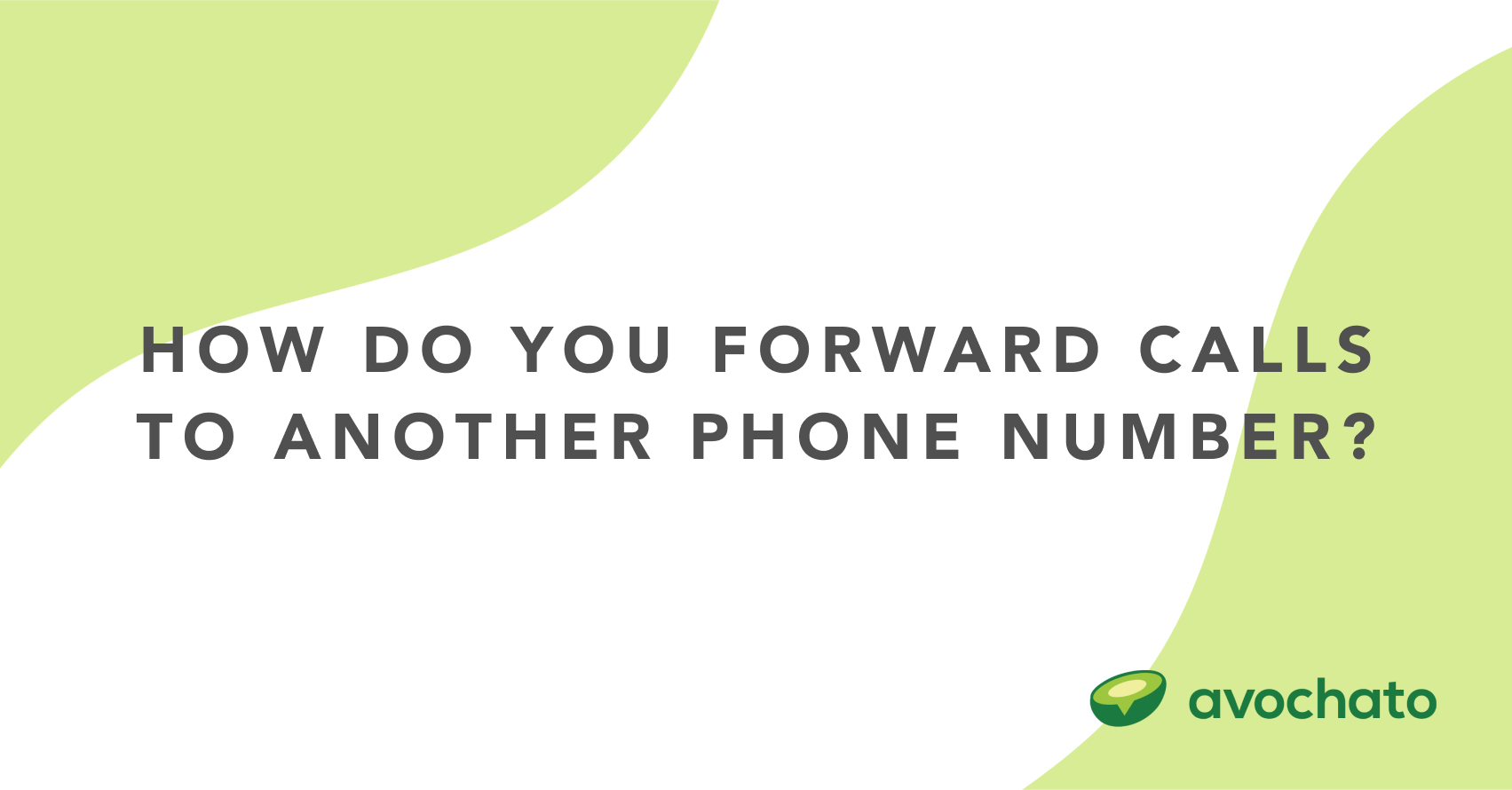 When a customer wants to get in touch with your business, you want to be as available as possible, which sometimes means routing the call to another phone number.
Here are a few reasons you might want to forward calls to another number: Your business number may be listed as a landline that you can't access all the time, or you want to make sure a customer's call always reaches someone, even while your team is working remotely. Or maybe you want to make sure a particular contact at your company is forwarded a call from certain customers.
Whatever your reason, there are plenty of ways to make sure you can forward calls to another number, as long as you have the right phone and text message software. We'll discuss some of the ways your software can help you forward calls, and then offer some specific advice for finding these tools within Avochato.
How do you forward calls to another phone?
With a phone and text messaging software for business, you can easily forward all incoming calls to one or more of the numbers marked for forwarding, such as landlines or personal phones. You can forward calls to as many numbers as you would like.
There are four key ways to forward calls to another number:
1. Rotate forwarding
When a customer calls your business, you can opt to forward the call to your team members in a rotational sequence. Your phone and text message software will receive the call, play a brief message and then place the customer on hold. During this time, the first number in the rotation will be dialed. If that person doesn't pick up, the second number will be dialed and so on, until the end of the list.
In Avochato, this is the default way for businesses to forward calls to another phone. Add numbers for your rotation in Settings > Call Forwarding.
2. Mass forwarding
Another way to forward calls to another phone is to use mass forwarding. This option is great if you want all the active numbers on your call forwarding list to receive the customer's call at one time. Whoever picks up first will take the call. This method doesn't require the customer to wait on hold, so it's a great option for customer service and sales teams.
3. In-browser calling
You can also receive calls within your phone and text message software app, which shows up as a notification. This kind of in-browser calling can help your team distinguish from work-related calls and personal calls if they're using their one devices.
Receive calls within the Avochato app itself by accepting the notification that pops up on Avochato. For this functionality to be enabled, "In-Browser Calling" must be toggled on.
4. Always forward to owners
With a highly intuitive and easy-to-use phone and text software like Avochato, getting phone calls to the right team member at your company is easy, even if the customer calls the general business phone number. When you select "Always forward to owners" within your settings, you can route calls from certain contacts to their owner. This kind of customization improves the user experience by giving your customers continuity and familiarity rather than confusion and frustration.
In Avochato, the conversation owner must have their phone number listed under their settings (User name in upper right corner > Edit profile > My Phone) and have it turned on under "Call Forwarding." If mass forwarding is turned on, all active users will also receive the forwarded call.
Avochato bonus: Only forward calls during office hours
When "Only Forward Calls During Office Hours" is toggled on within the Avochato app, inbound calls will go straight to voicemail outside of office hours. This is helpful to prevent calls from reaching you on weekends and late in the evening.

Not using Avochato already? Start a free trial today so you can start to forward calls to another number quickly and easily.