Today we are excited to announce the launch of AvoChat, a new product that combines the benefits of live chat with those of text messaging (SMS).
In this digital era, speed is king. Now more than ever, your website is the first place people go to learn about your business and customers expect an immediate response to their questions.
At the same time, many of Avochato's customers have been asking for a way to increase the engagement of their website visitors, using the Avochato SMS widget. To solve this, today we're proud to announce Avochato's upgraded live chat and SMS website widget: AvoChat.
The new AvoChat widget combines our expertise, business text messaging, with traditional live chat functionality. Visitors can now choose to communicate with your company on your webpage through live chat— or request that the conversation take place on their mobile device over text message (SMS). Regardless of their selected channel, the conversations will appear in a single easy-to-use inbox for quick response.
Read on to learn more, or request a demo of AvoChat now.
How Does AvoChat Work?
The AvoChat live chat + SMS solution empowers businesses to interact with your customers in real time. You can integrate the widget into your site without any coding experience, and you can get it up and running in a matter of minutes. We will also set up a local phone number for texting back and forth with your customers, prospects, and staff, or utilize the number you already have in place for calls.
The AvoChat experience works like this:
The AvoChat widget appears in the lower corner of your website. If a visitor wants to speak to someone at your company they click or tap to open the widget.




The visitor fills out the widget with important identification information like name, company, email and phone number.





The visitor then selects whether they would like to speak over live chat or SMS and sends their question.




One of your staff members answers questions in real-time and the message is delivered over the customer's preferred channel (live chat or SMS).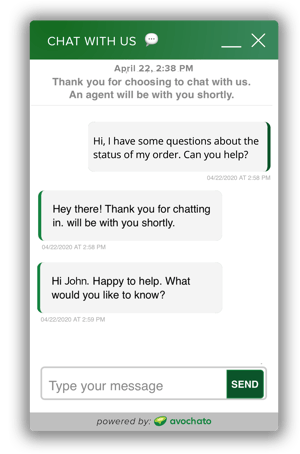 All conversations (live chat, SMS, voice) are managed and organized in your Avochato shared inboxes. Which are customizable to align with your sales or support team.




...and the conversations can be managed and logged to your CRM of choice, like Salesforce, in real time.



Let's get to know how AvoChat's live chat and SMS capabilities can help your business.
Strengthen Your Sales & Customer Support
AvoChat provides your visitors instant access to your sales/support teams, and vice versa, giving you more opportunities to turn your visitors into paying customers.

Your customers are empowered to choose between SMS or live chat, this increases the likelihood of them starting a conversation and decreases the likelihood of the conversation dropping off.

More completed conversations leads to more sales of your product or service and higher customer satisfaction delivered by your support team

AvoChat gives you access to stored chat histories that can be analyzed to improve your product or service.




---

"63% of consumers who used live chat on a website are likely to return to that site"

---
Advanced Functionality to Better Serve Your Customers
AvoChat has built in functionality to quickly route a conversation to the correct sales/support person. It also provides robust analytics on how efficiently your team is responding.

The AvoChat widget collects crucial data from potential customers such as name, phone number, and email. You can use this data for future follow-ups or sending marketing text messages. This data is stored within Avochato or can be synced to your CRM.



Key Features of the AvoChat Widget
The AvoChat widget comes with a lot of powerful features that not just help you provide better customer service but can also take your business to the next level.
It is easy to set up; requiring no coding to get started.

User-friendly inbox and dashboard.

Create custom message templates for quick and easy responses.

Routing and skilling to connect the right sales/support person with the right customers.

Customize the widget to align with your company branding.

Send personalized messages to your target audience.

Response automation to specific keywords.

Supports Opt-in and Opt-out compliance for SMS (TCPA).

Fully secured & encrypted chats.

Easy CRM integration.



Easy Integration with Other Powerful Tools
You can take your sales, customer support, and marketing to the next level by integrating other tools with your AvoChat widget. One powerful direct integration is with Salesforce Service Cloud. You can automatically create cases for new conversations over SMS or live chat and follow up directly from within Service Cloud.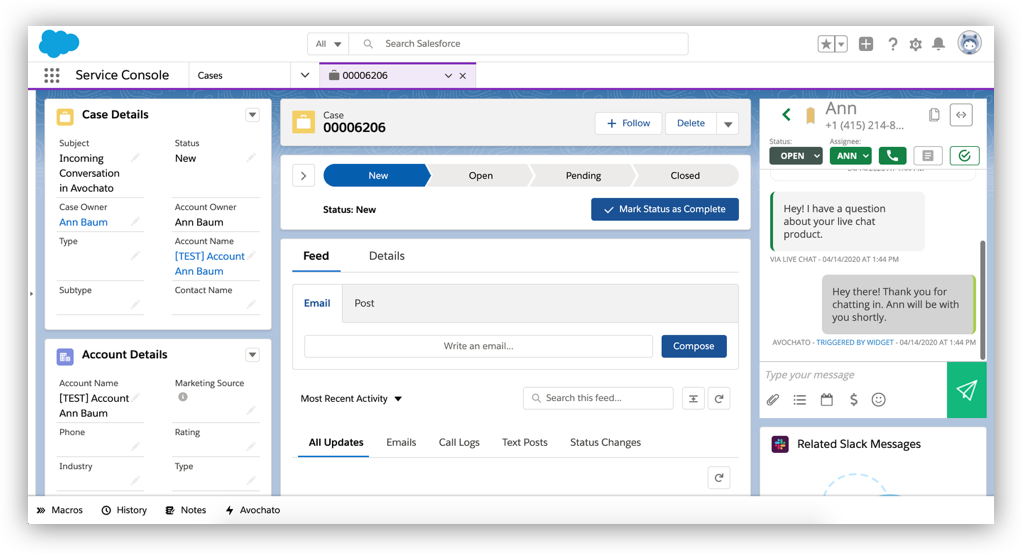 If you are in search of reliable live chat software, our would like to upgrade your current live chat to include SMS functionality, it is easy to get started with AvoChat. Its user-friendly live chatting and texting platform allows you and your team to serve multiple customers simultaneously. It can help you engage your customers in real-time, improve sales and support, and help you build your business.
To learn more about our live chat and SMS solution text "AvoChat" to @1 (415) 214-8977 to be connected directly with our team, or start chatting with us now!